Boys Indoor Track sees improvement during this season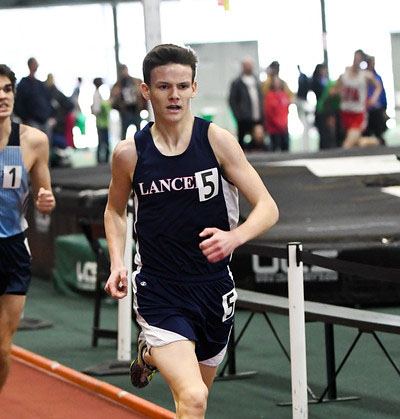 It's never easy for a young, inexperienced team to take on top competition at the varsity level, but the boys indoor track team were able to hold their own.
At the DI state meet, the team wound up finishing ninth out of 16 teams at the meet, but saw some promising signs for next year.
"It was a lot of guys first year competing at the state meet, so the nerves definitely showed," senior Declan Hotter said. "But for the circumstances they were in, they performed well and should be able to really compete next year."
One of those promising young runners was  junior Jeff Cieslikowski. Cieslikowski was one of the quarter of runners in the 4x800m that finished fifth overall.
"He definitely improved the most," Hotter said. "After not being on the varsity cross country team, he wound up being one of the six varsity runners for us on the indoor track team."
While some of the younger runners were getting their first taste of the varsity state meet, the veterans stepped up for the Lancers. Hotter finsihed third in his 1000m race and fellow senior Chris Zaino finished just 0.09 seconds behind the winner in the 1500m.
Overall, Hotter said that their ending to their season was about what they expected.
"I think we did what we were supposed to do," Hotter said. "Nothing more, nothing less."