LHS football program prepares players for collegiate football
This story was originally published in the Londonderry Times.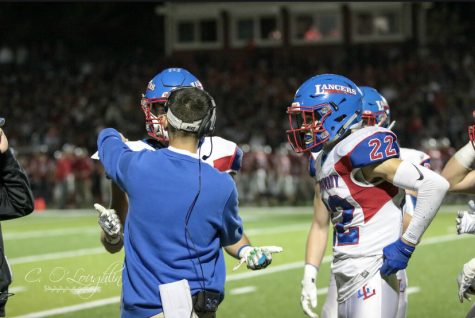 The Londonderry Football program has reached many milestones over the past few years, beating Pinkerton Academy two years in a row and winning a state championship after an undefeated season. So how do they continue to do it? Every year, the program continues to build a team that has the desire to play beyond the high school level. The program has all of the tools necessary for the Lancers to move forward successfully in their football careers. 
With an award-winning athletic training program and a supportive coaching staff, the program has sent 23 players to play college football since 2016 and has had 17 players move up in the past 3 years. Head Coach Jimmy Lauzon puts in an immense amount of effort each year to give players the opportunity to have a successful college football career after their high school experience here at LHS. 
"I think we run our program as similar to a college program as we can. That's always been the goal for our staff, but it took a few very dedicated classes to embrace that type of culture. I think we prepare [students] for the next level with the off-season program we have in place, the dedication to practice and film during the season, and learning everything we throw at them schematically," Lauzon said. "When they go on their college visits and hear what's expected of them at the next level, I don't think it scares them off. I think they're used to that type of time commitment." 
By creating a college-like vigor in his daily training the Lancers are being prepared for the commitment of college football. The Lancer Football Program has a unique amount of hardworking and dedicated players that focus an immense amount of time and effort into their team. LHS alumni Josh Berube and Pat Zepf took advantage of the Londonderry Football Program and went on to play football in college. 
Berube currently plays on  Saint Anselm College's football team as an offensive lineman. Berube has learned the value of hard work early in his football career.
"The Londonderry football program showed me how to be a leader and how to work hard. I built lifelong relationships with coaches and teammates that helped me prepare for football at the next level," Berube said.
Berube has taken advantage of every opportunity presented to him by the LHS Football Program and credits it as the reason he knows how to work hard and be a leader. 
"Coach Lauzon is pretty much the only reason that I am where I am," Berube said. "He helped me reach out and get my name out to colleges that he thought would be good fits and ultimately guided me through the whole process. Besides Lauzon, all of the other coaches consistently gave me love and support to be the best I can be."
With years of experience, Lauzon has fine-tuned the way he gives athletes who desire playing in college exposure. He begins the process by getting in contact with as many coaches as he can during typically the players junior year. Lauzon helps his players stand out from the crowds of kids trying to get into a school by putting a face to their name. 
"I do whatever I can to improve their exposure. I want our players to have a chance to play beyond high school if they have aspirations to do so, and I want to help with that process. I also want our players to know when colleges are interested in them," Lauzon said. "It helps motivate them in a lot of ways, most importantly it motivates them academically, but also helps motivate them in the off-season, and usually makes the player more coachable because they want to improve."
"We've just been very fortunate to have good, hard-working, dedicated kids. If the older kids continue to set the tone and expectation for the groups that come into the program, then things will continue moving in the right direction," Lauzon said. "I just think the players here have really bought in, the parents have been supportive and allowed their kids to be coached, and our administration has given us every tool to be successful. I think our off-season program has become somewhat of an expectation now. Our players improve tremendously from year to year which has to do with the time they put into training their bodies for nine months of the year and the time they put in improving their skill set over the summer. I don't think it's like that everywhere."
The program gives the players every tool and more to succeed in the sport, but it is a matter of drive and dedication that will determine whether an athlete is cut out to play at the collegiate level. 
"I think our players must love football and be ready to work hard in order to play at the next level. It's usually easy to see which players can continue playing at the next level. If they are fully committed to our program, they grind hard all year long, they enjoy the game and all that comes with the game, then we know they can make it at the next level. They also need to do well academically," Lauzon said. "Unfortunately, I've seen many players' academics hold them back more than their football ability. And it isn't a Londonderry School issue, in fact we've had kids get into Ivy League level schools from Londonderry, academics here will never hold a player back from getting into a school, but rather how they do academically that will hinder their chances of getting a next level opportunity."
LHS football alumnus Pat Zepf currently plays football at Bowdoin College and appreciated the emphasis placed on being a well-rounded student athlete. 
"A key part of playing in college is being able to manage your time and balance athletics with academics. Coach Lauzon always put an emphasis on achieving this balance at LHS by hosting study halls and meeting with teachers," Zepf said. "This really allowed my teammates to learn the skill of time management which has paid off in college. You cannot be successful on the field if your team lacks time management and discipline off of the field."
In order to succeed as a student athlete you must have dedication and discipline to stay focused on the task at hand. Both Berube and Zepf took full advantage of the opportunities the program presented them throughout their high school career.
"Pat and Josh embraced what our program had to offer, from the weight room, to the amount of time our staff was willing to spend with them to help them improve, to the academics LHS has to offer. They had a lot of college opportunities because of not only what they did on the field but also because they did well academically. They all brought into the weight room and training opportunities Michelle Hart-Miller provided," Lauzon said. "They all got stronger and faster throughout their career which helped them perform better on the field. They also all stayed patient. The last thing I'll say about them is that they went about the recruiting process the correct way. They weren't just thinking about football, they went to a school that fit them academically, socially, and athletically which is why they're having success there."
Athletic trainer Michelle Hart-Miller dedicates her time creating a program designed to fit the needs of every sport, giving the Londonderry football program a personalized training schedule.
"Talent and having a good skill set that gets athletes to the collegiate level, some kids will excel despite a solid strength and conditioning program. What we provide is an opportunity to participate in a 4 year developmental program with the goal of improving performance and building  'Lancer armor' or durability," Hart-Miller said. "All sports have the same fundamental patterns of movement, sports "specificity" comes from playing their sport. We progress athletes as they master these basic movement patterns and we see the most progress and growth with athletes that meet or exceed our program expectations and goals. By far the biggest keys to success are year round consistency, effort and a respect for the process."
The program that the Lancers are provided with is a rarity in the state of New Hampshire and provides high school athletes with a strength and conditioning program.
"I'll be honest, sometimes I'm not sure athletes understand what they had access to until they get to college and realize what they had access to. We provide our athletes with the same if not better programming than some collegiate programs," Hart-Miller said. "In our state in particular, having access to a  high school strength coach and a solid strength and conditioning "program" is extremely rare. I can think of only two other schools right now and only one in our division with a program in place."
The stakes are high at Londonderry High School and there is no shortage of team spirit or drive on the football field. The culture, training, and college recruitment process are just a few of the things that set LHS football apart from other teams.
"What makes our football team special is we have a head coach and a coaching staff in place that's helped to foster a culture where year round participation is a valued part of the football "program" as a whole," Hart-Miller said. "I can say with 100% certainty we have the hardest working team in the state ,  we have a lot of expectations. Those expectations have led to an increase in game wins, fewer injuries, a state championship in 2019 and now a "championship culture." That's what it's all about , right?"
Leave a Comment
About the Contributor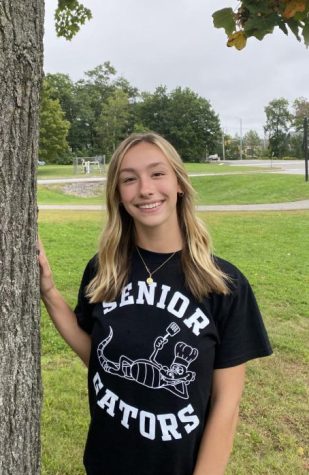 Olivia Windisch, Sports Chief
Olivia has been on staff with The Lancer Spirit for three years. Olivia is a huge sports girl; when she isn't on the field, court, or track with the Unified family, she spends her time cheering on Lancer Nation. Olivia is also involved in many clubs at LHS and enjoys spending her time volunteering. If there was an award for loudest fan... Olivia would win it.