Lancer athletes named NSCA All-Americans
Dedicated is one word to describe Lancer athletes Dan Gear, Owen MacDonnell, and EJ Donovan. These athletes have been named All- American Strength and Conditioning Athletes of the Year. The NSCA "recognizes athletes with this award to highlight the dedication that they have put into their strength and conditioning." 
Athletic trainer Michelle Hart-Miller has worked with these athletes during their four years as Lancers and has had a front-row seat to witness the level of dedication they have in the weight room. Hart-Miller is an NSCA certified strength and conditioning coach. This role enables her to nominate athletes who have demonstrated NSCA's All-American characteristics. 
 "Athletes are chosen based on their dedication to our strength and conditioning program, their willingness to 'buy in' and their ability to serve as leaders," Hart-Miller said. 
Football player Dan Gear has been training with Hart-Miller for four years and has been motivated by the results that he is able to achieve. 
"I was so dedicated to lifting throughout my four years because I knew that it played a huge role in preventing injuries and my hard work would translate to the football field," Gear said. "I wanted to make sure I was helping my team out as much as I could so if that meant I had to try my hardest in the weight room then that is what I did." 
Gear attributes the growth he has made to trainer Hart-Miller; the lessons she has ingrained into the lifting program are irreplaceable.
"[Hart-Miller]  has helped me so much throughout lifting and football. She is so involved in caring for all the athletes at LHS and makes sure all of us know to hold ourselves accountable while putting in 100% of our effort," Gear said. 
"
"I can't stress enough how important Michelle is to athletics here in Londonderry and I hope that future athletes are able to see that as well,"
— Gear
Football player EJ Donovan has grown in confidence throughout his time training at LHS. Donovan's leadership skills and knowledge about how to safely lift have all translated into his performance on the football field. 
"Lifting has positively impacted me in every way imaginable," Donovan said. "It has given me strength physically and mentally. I have met some of my biggest mentors, made close friends, and learned how to push myself." 
From the beginning of high school Donovan wanted to become a successful athlete, his determination gave him skills needed to succeed.
"I was in the weight room almost every day my sophomore year and that was probably the most beneficial year for me," Donovan said. "It paid off by being a starter with an undefeated record and state championship team the next year." 
"
"Throughout all of this time [Hart-Miller] has become like family to me, I've spent countless hours in the gym and she has been there for every one of them, "
— Donovan
Baseball player Owen MacDonnell used weight lifting to gain the strength needed to become a bigger threat on the mound. 
"I started to become more consistent and dedicated to my training when I started to realize that I wasn't throwing hard enough and that I needed to get stronger. I knew that I needed to get stronger if I wanted to play at the next level," MacDonnell said.
"
"Without [Hart-Miller] and the Lancer Power program I would not be the player I am right now,"
— MacDonnell
All three athletes have demonstrated an outstanding dedication to lifting and Lancer athletics as a whole. Even throughout quarantine they were staying consistent and working hard to maintain the results of their hard work. 
"This is not an award that is handed out every year so it's not an easy award to attain.  It takes a special athlete with special character and an athlete who has really grasped the Lancer Way," Hart-Miller said. "I am proud of all three and they will be greatly missed.  All three have left the jersey in a better place."
Each recipient's time in the weight room gave him an outlet to dedicate time to himself in order to contribute to a team. 
"Lifting means the world to me," Donovan said. "Not only has it given me the strength and training to be successful in sports, but it has also given me confidence and taught me how to push myself."
Leave a Comment
About the Contributor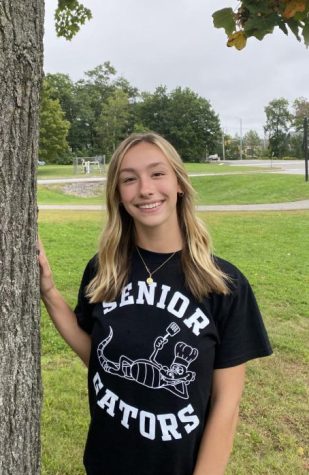 Olivia Windisch, Sports Chief
Olivia has been on staff with The Lancer Spirit for three years. Olivia is a huge sports girl; when she isn't on the field, court, or track with the Unified family, she spends her time cheering on Lancer Nation. Olivia is also involved in many clubs at LHS and enjoys spending her time volunteering. If there was an award for loudest fan... Olivia would win it.