Ms. Jabar's goal? To be the teacher she wishes she'd had.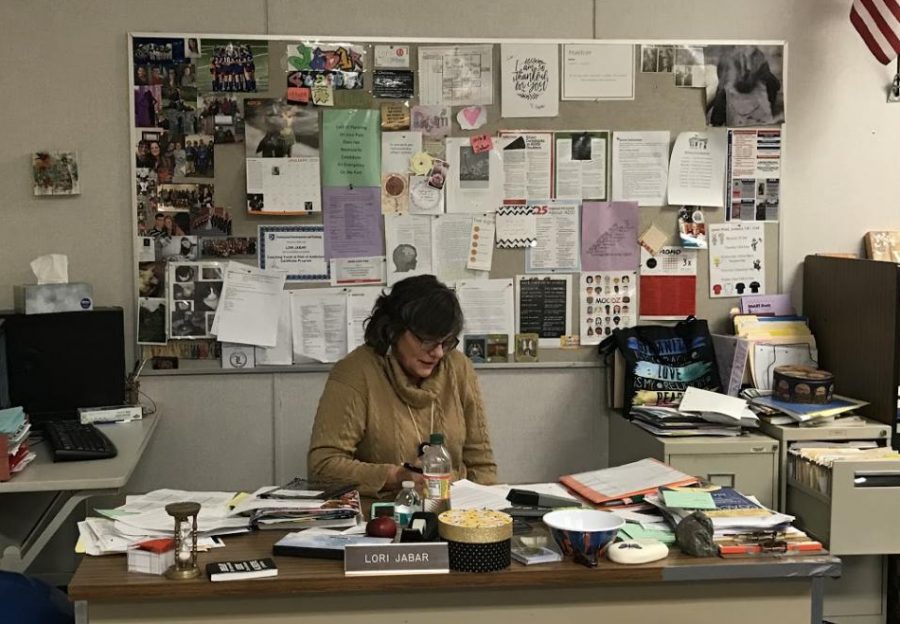 Bella Cossette, Reporter
January 24, 2019
I have two tests, a project and homework piling up to the point where I am so stressed I just want to give up. I go to pass in a paper that is late and when I try and pull it out of my bag, I can't find it.
This is how I spent the first year of high school before I started working with academic coach Ms. Jabar. She is someone who I (and many other students) look to for guidance.
Unlike most teachers, Jabar doesn't teach a particular class.  If you are wondering what the job of an academic coach entails, just think of a sports coach. However, instead of teaching plays or tactics for a game, she helps students organize their schoolwork or prepare for a test while still being someone they can talk to.
She prepares them for the biggest "game" of all: life.
"While helping students study," Jabar said, "I try and teach them methods that will work for them. Whether it be color coordinating note cards or splitting up their study time, I want to help them succeed."
Jabar's career started in college where she attended UNH for eight years. She has a masters degree in special education and her bachelors degree in recreational therapy. Jabar did case management for about 12 years, but when working with a student with ADHD, she soon found that she enjoyed academic coaching a lot more.
Every day this student would go into her room and they would organize his belongings, and the next day he would come back and the papers would be a mess again. That's when she realized she wanted to do more to help students who struggle with organization, attention issues or anxiety.
After taking a multitude of classes about dealing with situations that are hard for people to control, she learned how to help. She believes in using tactics such as as asking a student "how come" instead of "why." For example, if I tell a teacher I'm tired, and they ask "Why?" sometimes the tone sounds accusatory and judgmental. Yet if they ask "How come?" it sounds softer, and I might actually tell them why. This simple change in tone can often go a long way.
Sometimes Jabar has to start from scratch with someone who is disorganized.
"You have to meet a student where they are," Jabar said. "Their bag may look awful to you, but to them they know where the things are in their bag and can pull them out right away."
Being able to have patience with others and being completely free from judgement are the key points in her job. A students may be having a problem that seems very small, but she would never judge the student for feeling upset about it. Instead, she tries to help them fix it.
Going into my sophomore year, I was placed in advisory with Ms. Jabar. I had no clue who she was, but that very first day she asked how I was doing and tried to help me with math. Me, being the stubborn person I am, didn't want help. It took three months for me to open up to her, but throughout that whole time, she always had patience with me.
"Part of patience is building trust and respect with the students," Jabar said. "You can't expect them to trust you if there is no respect being given."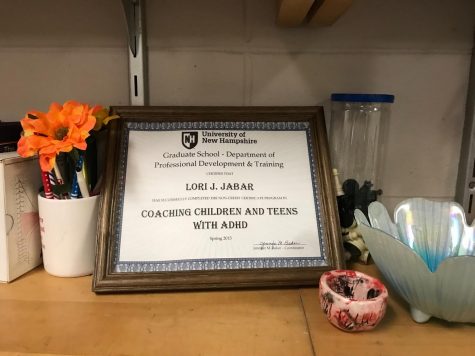 Sometimes you may find yourself wondering why teachers would want to come back to high school, because it is such a dreadful place, right? Well for Jabar, she wanted to be the person she never had when she was in school.
"If I had just one teacher listen to me or validate what I was saying, it would have helped me tremendously throughout high school," Jabar said.
Going into high school Jabar was great at math, but her teacher and guidance counselor decided to drop her down a level because she asked too many questions. She didn't understand why, so she asked them what the reasoning was and they kept ignoring the question.
"They were talking at me, not talking with me," Jabar said. "[The teacher and guidance counselor] not listening to me and not letting me prove myself made me feel like a failure."
She believes that listening to the students, and really understanding what they are saying to you and giving them feedback, will help them understand themselves. This in turn will give them something to work with while preparing for their futures.
Seniors right now are most likely thinking about college or future plans after graduation. It can get extremely stressful and at some points you may feel like the questions about college never stop.
Many seniors have received help from Jabar with papers or questions about college. She has given a great amount of guidance to many students who have no idea what their future looks like. Help with what type of college is for you, and how you can take your skills from high school to college is something she can help with.
"She has helped me understand myself, which has really helped me to be ready for the steps ahead, like college," senior Chloe Wilson said. "She has found strategies for me that will help me function academically as well as just on the daily, which are very powerful and I will keep for the rest of my life."
Jabar's goal is to create a place where students feel comfortable. Stress from either school, sports or home make the long journey of high school even longer. That is why she wants to help.
And she has.
"Jabar has done so much for me," Wilson said. "She has provided me a sanctuary at school where I can think freely, speak freely, and express my feelings. She has helped me understand the power and good energy inside me which will help me get through whatever it is I go through in the future."
Walking into room 210 you feel comfortable right away. The positive posters and coloring give the room a home-type of feeling. You can feel the vibe of happiness, and it truly is a judgement free zone. This room has been a safe haven for many students over the years.
"Her classroom is such a welcoming place and even with meeting new people, in there it's a place where I know I will always leave smiling," Wilson said.
Jabar tries her best to make students less stressed and for people to understand the pressure kids have on their shoulders. She hopes that people will soon understand the importance of executive functioning.
"Yes, we are preparing kids for college, but we are also preparing them to live their lives healthily," Jabar said. "I think sometimes people forget this."