Women to Watch 2021: Meghan Powers
Londonderry High School Athletic Trainer Meghan Powers has always known that she wanted to go into the medical field. 
Powers' has had a love for sports for a long time, so she wanted a job that incorporated both sports and medicine. 
"When I discovered athletic training and realized I could be a health care professional and at the same time essentially watch sports for a living, I knew it was the career for me," Powers said. 
The inspiration for Powers to become an athletic trainer goes back to her days in high school. The trainer she met during her high school career became a role model for Powers and set an example for what it looks like to help others.
"I had an athletic trainer who was great with the student athletes, his name was Neil Duval and he is actually the Associate Director of Athletics at St. Anselm College," Powers said. "He took the time to care about each student that came to him and took the time to teach me about what it meant to be someone who can make a difference in others lives through medicine."
After high school, Powers attended Springfield College in Springfield, Massachusetts. Powers experienced working with different age groups for athletic training. At the time, she already knew she wanted to work with high school students. 
"In college, you are required to complete 800 hours of student athletic training during which you are assigned to various teams in various settings," Powers said. "So in college I experienced public high school, boarding/prep school, semi-professional and college teams that ranged from those that only traveled locally to one that traveled across the country for its competition. With high school aged athletes, most are often playing for the love of the game and playing multiple sports. I am able to get to know the student-athletes as a whole and not just another player on a team. Helping them throughout their high school career is a great joy to me."
Following the spring of 2004, Powers started working at LHS. This was her first job after graduating from college. 
"I didn't really face any difficulties starting my job here," Powers said. "I was extremely blessed to get a job here at Londonderry working alongside Michelle Hart-Miller who is well known and respected in the athletic training world. It was, and still is, a great learning experience to work side by side with her and it's a pleasure to work in the community of Londonderry."
When Powers came to work as an athletic trainer, she knew it would require a lot of work both on and off the field.
"I do everything from practice and field setup and prep (water, supplies, taping and treatments of athletes), first aid treatment, injury evaluations, rehabilitation of injuries, game and practice supervision, weight room supervision, communication with other athletic trainers and health care professionals, communication with parents/guardians, inventory and supply ordering, documentation and keeper of the sunflower seeds and candy," Powers said.
Besides all of the hard work that goes into being an athletic trainer, working with the athletes is something Powers really enjoys. If she isn't aiding them to an injury or illness, she is always there for whatever a student needs.
"Knowing that they can be having a good day and want to come in and share it with me after school or having a bad day and stopping in to seek help or advice makes my job extremely fulfilling," Powers said.
Having the ability to watch the athletes succeed in many different ways is something Powers always looks forward to.
"Whether [students] find success on the athletic field, success in the classroom, or success in their personal lives and other extracurricular activities, I love watching them grow," Powers said. "Obviously the most satisfying for me personally is when they have battled back from an injury or illness and are able to return to play happy and healthy." 
Being healthy is important when playing a sport. The past year with the pandemic has changed Powers' job immensely. She has a lot of new responsibilities that range from small temperature checks to larger problems, such as athletes who have tested positive for COVID-19.
"Some of it can be frustrating as I wish we could continue with our lives as they were before the pandemic," Powers said. "However, there is also a larger concern of the unknown, long-term effects of coronavirus on the human body and as it relates to sport and exercise. I have a feeling we will be dealing with the effects from coronavirus for many years to come."
Although this year has been tough, there is one thing Powers is most proud of from her time here.
"I've had the opportunity to help so many student athletes over the last 17 years," Powers said. "Not just related to athletics and injuries but seeing them successfully move on from high school and begin their adult lives, no matter what they chose to do or where they chose to go."
Even after athletes graduate, Powers tries to stay in contact with them to hear how much former students have grown. 
"I enjoy seeing athletes go to the college of their choice or find a career that they love," Powers said. "After you graduate don't disappear! Come visit, email, call or text me, find me on social media. I love seeing what former student-athletes are up to after they graduate from LHS."
View Comments (2)
About the Contributor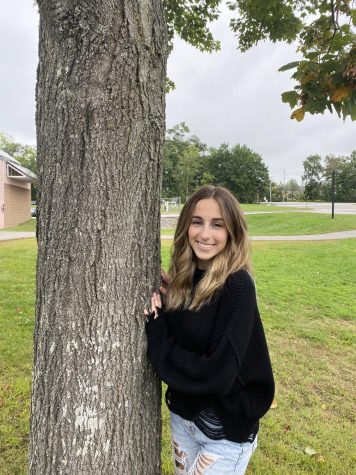 Abby Foley, Executive Features Editor
Senior Abby Foley has been on the Lancer Spirit Staff for three years, and has worked her way up to being the Executive Features Editor. In her free time, Abby enjoys hanging out with her friends, and playing with her dog.