Remembering Ms. Murphy
The Lancer Spirit is deeply saddened to hear that Ms. Murphy has passed. Murph was one of the most kindhearted, strong and influential people to represent Lancer Nation. If you'd like to share a fond memory you cherished with Ms. Murphy, please click here.
---
[foogallery id="37419″]
Olivia Colliton-Savina, 2019-2020 student: 
Memory: "My favorite memory of Murph was all of freshman year English. I remember seeing her struggle with her illness. I remember her saying how she hoped to be as much of an influence as the teacher in Dead Poet's Society. I remember her always taking photos and videos of our class. My favorite memory is her laughing in the background of us playing charades to practice for our midterm. She wanted to give Maya the best experiences she could. I saw her last summer with Maya trying out field hockey. She was so sweet and asked how I was doing. I miss her checking in on me whenever I saw her. "
Quote: "Time is the greatest gift." 
---
Isabel Schickler, 2019-2020 student: 
Memory: "Celebrating "hoodie hoo" day! I just remember Murph asking us about what the most random holiday was, and we ditched our lesson that day to search up unique holidays. I found "hoodie hoo" day, which calls for running outside at noon and yelling "HOODIE HOO" at exactly 12 p.m to help people get over the winter blues and prepare for spring. It was a silly holiday, but Murph still agreed to let us celebrate in the middle of class on that day because that's just the type of person she was. She never said no to trying new things, and she always encouraged us to be creative and explore new things."
Quote: ""People need people."
---
Susan Wakelin, LHS Social Studies Teacher: 
Memory: "There are so many memories I have from my friendship with Corrine Murphy.  Probably one of the funniest was the time she decorated my room with pictures and sayings from the movie Elf. Murph and I were talking after school as we normally did and it came up that I had never seen the movie Elf. To say the least she was flabbergasted!  She started repeating all these crazy lines from the movie cracking herself up all the while.  Later that week I came to my classroom door greeted by a huge picture of Will Ferrell in his "Buddy the Elf" costume.  My classroom was covered in everything "Elf"!  We had a good laugh about it afterwards as I sat on her couch and watched the movie for the first time. She made it a point to send me videos of Maya laughing at certain parts of the movie as she knew it soon became one of my favorites."
Quote: "People need People"
---
Kim Kerns, former teacher:
Memory: "We went on so many adventures. Wicked, Ogunquit, Lobstah Rolls, Science Museums, Aquariums, designing her garden with Lilacs and Hydrangeas, or just going for drives. One time we decided to drive up Mt Washington! It was an epic moment when she realized she conquered her fear of driving the difficult road up and down (her car's rotors were very hot on the way down!) She was fearless and strong in her cancer battle so it was shocking that this was a little scary for her! "
Quote: "Hey Girlie! People need people! Choose Joy! "
Leave a Comment
About the Contributor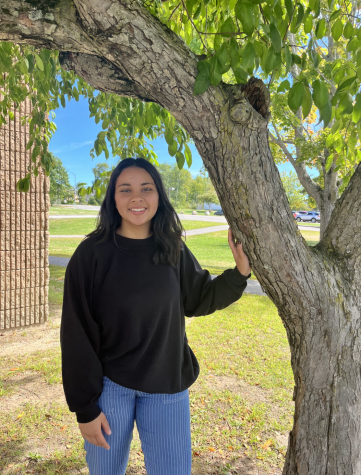 Alisha Khalil, Online Chief
Senior Alisha Khalil has been on staff for 3 years. Starting as a reporter her sophomore year, she is now The Lancer Spirit's Online Chief, Political Analyst, and News Editor. She started The Lancer Spirit's first Political news column. In her free time, Alisha enjoys making coffee and listening to music.