Heartstopper: the best show to watch during the month of February (whether you're single or not)
Countless coming-of-age romance films are spewed out of film production studios every single year. Unfortunately, no matter the plot, or the array of actors, these kinds of productions always end up revolving around the cringeworthy cliches that audience's have experienced over and over and over again. 
I'll give you a couple examples: the transformation montage to a bad pop song. The big misunderstanding, where the love interests can't communicate with each other properly. The character whose entire personality revolves around being single. The right match was there all along. Sound familiar?
While these overused cliches can be supremely endearing, and altogether nostalgic, what audiences really need nowadays is a refreshing perspective on life and love in all its forms.  This striking distinction can be found in Netflix's hit show Hearstopper, which values proper representation for modern love and life. 
An online web-comic, turned graphic novel, turned series, Heartstopper, by Alice Oseman follows the story of Nick and Charlie, as their sweet friendship transforms into a rose tinted romance. Heartstopper, with its tender depiction of sexuality and gender, has delivered the representation that the LGBTQ+ community has been waiting for. 
Surrounding the main characters Charlie and Nick are a diverse group of individuals; people of different backgrounds, cultures, transgender and lesbian characters, and straight and cisgender allies. The overall storyline, while heavily focused on Charlie and Nick's relationship, delves into the lives of their friends, who (like the main characters) are navigating all the twists and turns that life and love have to offer. 
Heartstopper gets it right in so many ways, but the tone of the show in particular is spot on. Yes, the main characters are surrounded by supportive and protective friends and family, but muffled in the background of positivity is an undercurrent of past and present bullying. Because the characters are teenagers, many issues in the series are centered around real problems and situations that the current generation of teens can relate to. Nonetheless, Hearstopper still resonates with audiences of all ages. 
In the later Heartstopper comics, and the additional seasons that Netflix has commissioned, there are more demonstrations of the repercussions of the bullying on mental health. It's a dangerous assumption in general to think that all people are unwaveringly open-minded and accepting, and Heartstopper is a beautifully delivered reminder that while there is major progress being made, things are far from perfect for the LGBTQ+ community. 
Hearstopper is a show that focuses on the emotional dimensions of relationships, and never fails to nod to its origins as a graphic novel with moments of animation, particularly when emotions run high. It's no secret that even remotely happy endings for queer characters are a rarity in the film industry. But Heartstopper demonstrates that happy endings aren't just reserved for heterosexual love.
Leave a Comment
About the Contributor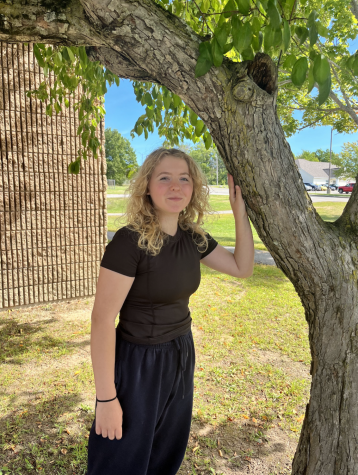 Catie Brown, Copy Chief
Catie is a senior, and has been part of the Lancer Spirit Staff for three years. Her interests in writing and photography are what drove her to begin. She also plays volleyball, tennis, and rock climbs in her spare time.