In a game of inches, the Lancers ran for 321 yards against Windham with lots of credit going to the linemen, or "hogs" as they like to call themselves. 
This year's offensive line has been one of the best in the state and senior Andreas Taliadouros is ready for the challenge to get harder. The team is preparing to face a tough competitor, Exeter, who they beat 35-0 the first time. 
"It's going to be a tough game, they're going to try different things and make adjustments," Taliadouros said. "They're going to be a different team than the one we played in week seven.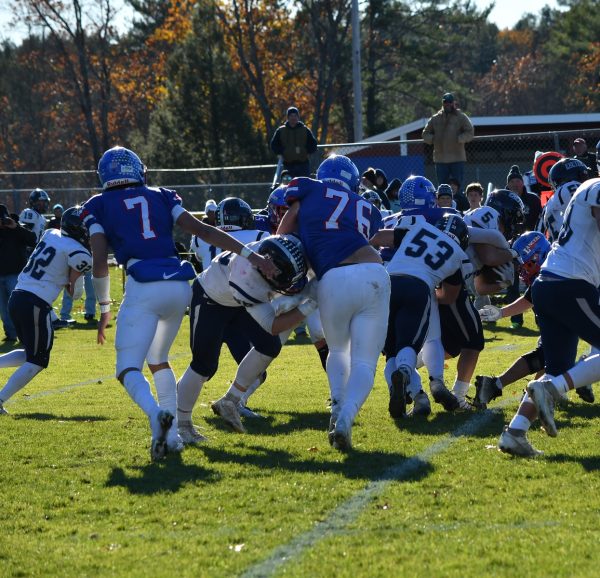 Taliadouros is ready for the Blue Hawks to make many adjustments to come out on top.
"They'll be looking to do things differently and adjust to us since the last time we played," Taliadouros said. "The challenge will be keeping up with their changes and making changes of my own mid-game on the fly. This is a great team who definitely should not be overlooked."
While the linemen may get less attention from the media, Taliadouros feels that the linemen are some of the most important players on the field. 
"I feel like the linemen are very overlooked, the offense can't operate if the line isn't executing," Taliadouros said. "All five have to do their job, if one messes up the whole play could be messed up. Our execution has a huge role in the performance  of the entire offense."
The linemen are seen as a family from every aspect of the game and Taliadouros embraces the culture of being a "hog." 
"[It's] a brotherhood like no other," Taliadouros said. "The starting five all have to have a great connection and trust in each other to execute, but even outside of football, our bond is tight. We go out to eat every week before the games. I love the culture and I love the bond." 
Junior Paul Binder, is expecting a tough game as well and feels that their last victory wasn't as dominant as it should have been. 
"I'm expecting quite a dogfight," Binder said. "They aren't a bad team, we just managed to catch them after a couple of tough losses. It should be a good game as long as we can get our offense working and our defense to be just as good or better than it has been."
Bin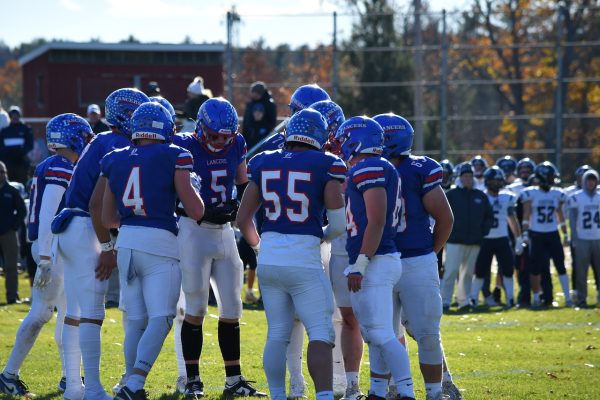 der looks at his matchup with confidence and believes that if they can do the small things, then they should be able to come up with the win. 
"The biggest challenge from a team standpoint will be to score whenever we get the ball and to keep them off the field," Binder said. "They like to win by making very time-consuming drives so if we can stop that we should be good. A challenge I'll have to deal with personally is going against their line. Being foot to foot and having seven 7 down is not very fun to go against."
Binder feels that his job as a lineman is more important than any other on the field. 
"Some of the big differences between us linemen and the other positions is the severity of our mistakes," Binder said. "We could easily get someone injured if we mess up."
Binder looks at the game against Pinkerton as a result of Londonderry's poor efforts, but the rest of the season has been very efficient from the linemen. 
"When we work together our team has great chemistry and we put up a lot of points," Binder said, "but when we turn on each other and begin to lose that chemistry, it turns out to be like the last game against Pinkerton."