Adele mounts a solid return to form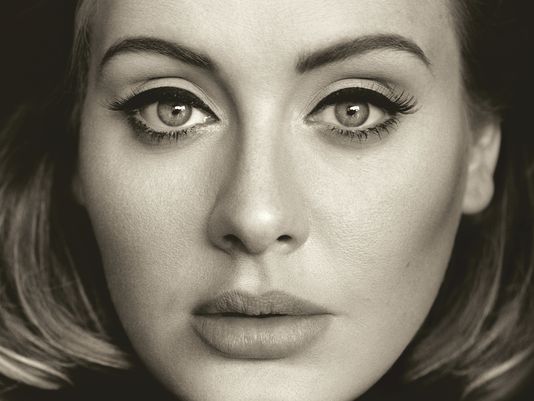 Conor Battles, Editor-in-Chief, Arts & Entertainments Editor
November 28, 2015
The road to pop-juggernauthood usually requires a relentless, fervent work ethic, peppering the radio and Spotify playlists with hit tracks every handful of months or so. Adele, however, seems content and able of doing things her own way.
The 27-year-old dominated the charts in 2011 with her sophomore outing, 21. Everyone remembers where they were the first time the somber piano of "Someone Like You" pined its way through their speakers into their hearts. Adele has always had a way of mingling the resolutely somber with the sublime, and on 25, her latest release, this talent is hardly diminished.
At its most basic, 25 is largely more of the same tried-and-true Adele "formula," so to speak. There are songs about breaking up, moving on, and reflecting on lost love. However, there is a palpable growth on this record as well, calling on new themes and ideas that weren't present on 21. The last four years saw Adele raise her son, contemplate quitting the music industry altogether, and suffer from a heavy bout of writer's block that left her fearing creative bankruptcy, and all these outside forces invigorate the tracks on 25 with a plethora of new ways to approach her craft.
The lead single for 25, the irrepressibly huge "Hello," plays with Adele's mournful 21-era catalog and subverts it, mingling the traditional piano ballad structure with R&B-esque arrangements and sweeping choruses. Lyrically, it is fairly straightforward Adele fare; some Great Unidentifiable Someone hurt her long ago, and the affectations of that pain linger on. Even still, as the chorus builds and swells and the drums pound into life, Adele sing-yells with all the confidence her fame and talent affords her, "Hello from the other side." There is a renewed sense of urgency on 25, brought on by the years of accolades and success in the face of her personal heartbreaks. Adele is many things, but above all, she is a survivor.
Apart from the usual ballad work, tracks on 25 play with genres and styles not typically associated with Adele, and for the most part, it works. She brought in Max Martin, the master songwriter behind hits from everyone from Britney Spears to Taylor Swift, on the bright, poppy "Send My Love (To Your New Lover)." She blends folk conventions with provocative R&B on "I Miss You," coming up with some kind of amalgamation of Mumford and Sons and Aaliyah.
Ultimately, the songs on 25 are varied and sonically interesting enough to make it a stellar evolution of Adele as an artist. For an album four years in the making, it feels strangely relevant and thoroughly modern in a way whose impact on the pop landscape is on par with Beyonce surprise-dropping an album nigh on two years ago.
---
7/10