Boys' lacrosse welcomes new head coach
As fall athletes go into hibernation and winter athletes finish up their season, spring athletes like the boys lacrosse team are getting ready for the upcoming mud season with indoor games and practices.
With any new season comes new schedules and incoming players, but this year boys lacrosse also introduces new head coach Mr. Sampson as they prepare for the spring which is now fast approaching.
Sampson is a former Marine who will be using his knowledge of the sport to help his new team as they push forward this season. Not only is he eager to help young athletes succeed, but Sampson also looks forward to the season for the fun aspect of being on a team.
"Most coaches will tell you they coach because it's a blast, not because it's hard work," Sampson said. "It's all nothing but fun for me."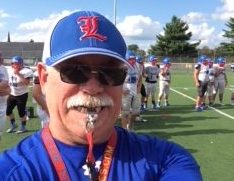 Sampson is the former freshman coach for both lacrosse and football, and also has experience as a varsity lacrosse coach for smaller schools such as Nashua North and Pelham. Despite his prior experience, Sampson recognizes a difference with this upcoming season.
"Londonderry has the numbers and the players, and along with LYLA (Londonderry Youth Lacrosse Association) and the coaching staff over the years, it's a pretty solid base of fans who love lacrosse and wanna play it," Sampson said.
Sampson explained his plans for the season and the efforts he will put forth in order to reach the team's full potential in regards to training and uniting the players.
"From the bottom up we're gonna use the same terminology, we're gonna use the same offensive and defensive schemes, and we're gonna ignite a fire that will make all these kids want to achieve," Sampson said.
While keeping some old customs of the already established environment, Sampson also hopes to make some changes in the program.
"Coach LeBlanc and Marquis left the program in really good shape, but there are some things that I do want to do differently that haven't been done in the past," Sampson said.
One of these new tactics involves reaching out to the lower levels in order to emphasize the fundamentals of the game as well as building a relationship across the entire board.
"I want to attack lacrosse training at the grass roots," Sampson said. "Part of that is the start of the new lacrosse program at the middle school."
Sampson hopes to build on the existing foundation but wants incoming players to be aware of the legitimacy of the team.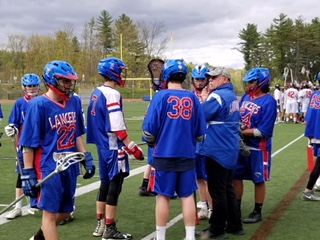 "The younger kids that are gonna be coming into the program need to understand that we're a serious program," Sampson said. "If you want to be a lacrosse player at Londonderry High School, you gotta step up your game. You gotta do everything that you can to be an accomplished lacrosse player."
Although he is aware of the hardships his team will face with the upcominging season, Sampson is confident his existing relationship with many former players will allow his team to overcome them.
"There are always challenges in every season and one of them is certainly year in and year out that chemistry that you have with the kids," Sampson said. "Because I already have an existing relationship with most of them, I think we're ahead of the game on the chemistry."
Despite the difficult schedule to come which consists of high competing teams such as BG and Pinkerton, Sampson believes in his team and wants the kids to understand the coaching staff is prepared for these games.
"We're gonna compete against that, and our goal is to defeat them, we're gonna go into battle, and we're gonna defeat them. That's our goal," Sampson said.
Sampson emphasized that part of tackling these obstacles in the season to come will derive from the players' ability to step up this season.
"I know these kids they will step up. They are gamers and they play with a lot of heart," Sampson said. "The one thing I want them to know is I have an extreme high level of confidence in them."
Sampson looks forward to the season to come and is expecting big things for his future team. He has a lot of faith in his players and hopes to do everything in his power to allow them to achieve all that they hope to accomplish.
"My goal as a coach is to give them every tool possible to help them succeed," Sampson said.
CORRECTION: The above "selfie" of Coach Sampson was taken with his freshman football team, not the lacrosse team which was in the original caption.
View Comments (1)
About the Contributor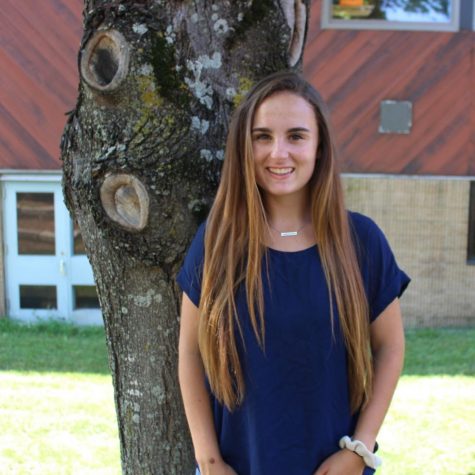 Kait Bedell, Editor-in-Chief
Kait loves to keep busy with her many hobbies of lacrosse, field hockey, drawing, guitar, and of course, writing. On the rare occasion her schedule is freed up, she is usually spending that time with family and friends or sprawled out on the couch watching her favorite shows.