NFL weekly picks: Week Eight
Brian Boyle, Max DesRosiers, Nick Desrosiers, Thomas Fougere, Zach Malcolm, Blake Melnik
October 25, 2018
This past week the Texans beat the Jaguars, the Buccaneers beat the Browns, and everyone beat Max. For this week, we decided to spice up our board in the spirit of the season. But first, this is how we stack up after four weeks:

Here are our picks: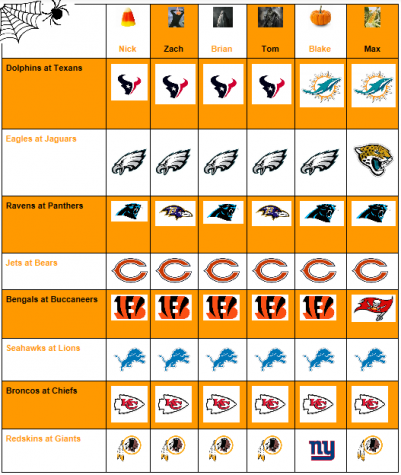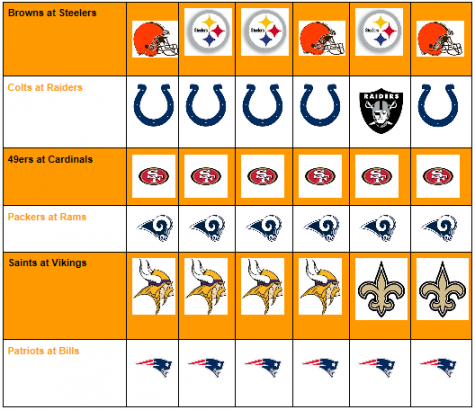 Game of the week: My game of the week for Week Eight has to be the 8:20 primetime game, Saints vs Vikings. While the Saints are 5-1, the 4-2 Vikings are projected to win at a 56% clip. This game without a doubt will be a high scoring game, as both teams have a vast range of offensive weapons to choose from. Expect the Saints WR Michael Thomas to compete against Adam Thielen for the most receiving yards, as Thielen has had 100 yard games for 7 straight weeks. Thielen will for sure be the number one threat on the Saints defensive radar, most likely drawing coverage from CB Marcus Lattimore. Overall, this game is going to a battle, but the Vikings will come through in the final minutes with a game winning field goal.
Player of the week: Our player of the week is RB James White. White has been the most reliable player on the talented patriots offense, leading the team in touchdowns and receptions. With fellow RB Sony Michel doubtful for Monday's matinee, White is once again on pace to handle the majority of snaps from the backfield. Expect him to collect anywhere from five to eight receptions and tally around 75 total yards against a sub par Bills defense.
Bust of the week: Our bust of the week this week is Mark Ingram. Ingram shares a backfield with the more explosive Alvin Kamara, who is having a career year. Ingram is very touchdown reliant and the Vikings defense is notably stout against the run. We expect Kamara to handle most of the work, because unlike Ingram, he can catch lots of passes out of the backfield.
Sleeper of the week: Our sleeper for Week Eight is Kerryon Johnson of the Detroit Lions. The rookie running back out of Auburn is having a terrific season even without finding the end zone frequently. Johnson does most of the work to get his team down the field, but then is taken off the field in the red zone in favor of Blount. Johnson had over 150 yards last week and this is not his first time eclipsing the 100 yard mark this season. The Lions  seem to be catching their stride and it is thanks in large part to Johnson.