Bompastore back on the block after torn ACL
Senior Stephen Bompastore's setback paves way for major comeback
It's another day at the mountain and the wind is blowing in senior Stephen Bompastore's face. He is tearing it up on the slopes. Left and right, Bompastore is shredding down the mountain. 
That is until a skier's worst nightmare catches Bompastore's eye one second too late: ice.
"I was skiing down Cannon Mountain, and I was going really fast," Bompastore said. "I dug my ski into the snow trying to stop, but I hit a patch of ice, and I fell."
At first, nothing seemed too bad to Bompastore, only minor injuries that he would be able to recover from very quickly.
"I knew something was wrong," Bompastore said, "but I thought that it was only a sprain."
It wasn't until he got up and started skiing again that he knew that something was wrong. Really wrong.
"I tried skiing down, and I felt my knee slide out," Bompastore said. "It didn't hurt that much at first because of all the adrenaline, but then once I took off my boots, it really started to hurt."
Finally, Bompastore decided to go to the doctor to see what the problem was. He then received the verdict, and it wasn't a good one.
"I didn't fully know until the MRI," Bompastore said. "I tore my ACL."
At that point, the thought of being ready for swim season was far-fetched for Bompastore, but he wasn't going to let this get him off track.   
"At first, I thought I would be [ready for swim season], because it was usually takes six months to recover," Bompastore said, "but near the end I thought that, maybe, I wouldn't be able to do swimming because it took a while to recover and get back to normal."
Another concern for Bompastore is that he's an academic, and he takes school very seriously, even being in the top 10 of the class of 2020. The injury not only made him battle to get back in the pool, but also to try and maintain his work in the classroom, which had been straight A's up to this point.
"It was hard. I got an A- in two classes because of it," Bompastore said. "I had to miss about two and a half weeks of school."
Bompastore has had to overcome so much adversity, and doing that has made him strive for so much.
"First of all, I know that swimming is strengthening my leg, so I just try a little harder," Bompastore said. "Second of all, I could tear it again so I might as well get the most out of it while I can."
Since tearing his ACL Bompastore has been having a great season. He was just recently named Athlete of the Meet for being the 200 meter free relay that helped defeat Pinkerton.
"I was really excited," Bompastore said. "To be able to come back from such a big injury and get an honor like this made me feel good because I knew that I was able to overcome the tough complications in my knee."
Leave a Comment
About the Contributor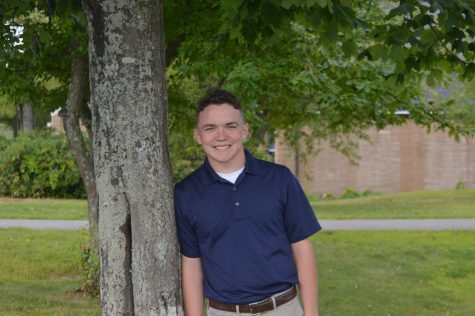 Chris Tutt, Sports Editor
Big Sports Guy. Chris is apart of the unified family, captain of the varsity baseball team, president of senior gators, and is involved in numerous clubs. He is a two-time concussion survivor.