Appreciate your guidance counselors with National School Counseling Week
With so many different classes, opportunities, and personal interactions high school has to offer, every individual student can experience the four years completely differently.
That being said, getting to those experiences as well as maintaining good mental health can be a struggle.
Sometimes getting to this nirvana of an ideal school day means a quick schedule change. Other times it might be having a shoulder to cry on or a person to vent to. Regardless, school counselors are a resource available to students to help their four years of education be as stress-free as possible.
This week, Feb. 2-7 is deemed National School Counseling week. The week isn't aimed to praise the people themselves, but to appreciate the school counseling itself as a resource to students. 
At LHS, each student has counselors specifically for their house office in order to make it easier for students to form personal connections with them.
Mrs. Sherwood, one of the two counselors affiliated with House 1, is one of the several advisers available at LHS. Sherwood feels strongly that the appreciation week is important for students to acknowledge.
"I think the point of the appreciation week is to highlight the profession. It's different from a Teacher Appreciation Week to me because it isn't about thanking one specific person," Sherwood says. "It raises awareness for what we do, and lets kids know that we are here for them."
As a counselor, Sherwood enjoys having her door open for her students. Despite the many tasks her job entails, keeping that personal connection between herself and her students comes first.
"
Being a school counselor gives you the opportunity to interact with students in a different way from teachers because we advocate for students and teach students how to advocate for themselves."
— Director of School Counseling Mrs. O'Dea
"Even though scheduling and other administrative things are a part of my job, it is nice to be with the kids," Sherwood says. "It's really great this time of year because you get to see some kiddos you wouldn't normally see because they want to work on their schedules for next school year."
To Mrs. Sherwood, the traits that make a good counselor don't lie in the administrative work or in the scheduling. The characteristics that make one successful in their profession can be determined by the relationships they form with their students.
"You have to be a good listener and have lots of empathy for others," Sherwood says. "You have to have love for every student that walks through your door, it's like a motherly feeling." 
Sherwood says she wants students to use this appreciation week to realize that she and all other counselors are here to help students, and that her job entails more than might meet the eye.
"We aren't just shuffling around papers all day," Sherwood said. "We help students cope with problems and figure out how to deal with their daily lives."
Get to know your school counselors
Leave a Comment
About the Contributor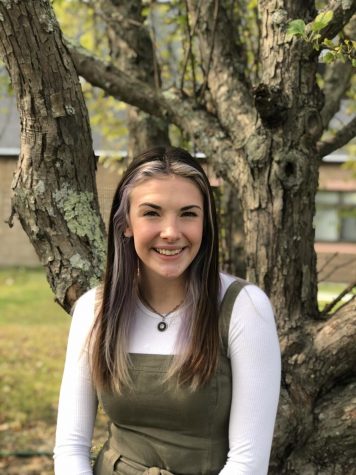 Isabella McCutcheon, Editor-in-Chief
When she isn't making lattes at O'Sheas or editing a feature article, Isabella can be seen with her adorable German short-hair pointer, Sawyer. She spends most of her time at Big Buddies, doing crafts, and working on her upcoming senior project. Isabella is friendly, hardworking, and loves to make people laugh.