Senior Gia Komst wins NHSSCA All American award
Every year the National High School Strength Coaches Association (NHSSCA) gives out a NHSSCA All American award to high school students "for demonstrating outstanding achievement on and off the field in regards to strength and conditioning, athletic performance, academics and leadership."
Senior Lancer Gia Komst was one of five high school girls in the country to win this award. Komst received this award on Feb. 5, which also happened to be National Girls and Women in Sports Day. 
"This award is a huge honor for me, I was shocked when I received it because I honestly didn't even know it was a thing," Komst said. "I wasn't expecting it at all."
Komst has grown up playing softball and being an athlete, but she didn't start lifting until she was in seventh grade. 
"When I was in seventh grade my brother took me over to the high school gym," Komst said. "I was super overwhelmed, but it turned out to be a second home for me."
Komst has been one of the most dedicated and consistent lifters at LHS since she started playing sports here as a freshman. Becoming so dedicated to a sport or weight room lifting takes lots of hard work, focus, determination, and inspiration. 
"I didn't really need anything to inspire me to keep lifting because it was lifting that continued to inspire me," Komst said.
There's no doubt that her effort in the gym has helped her become the star softball and track athlete she is, but what some people don't know is how lifting can help outside of sports.
"No matter how hard things got or what was happening in my life, I knew I could go to the gym and not only work out my problems, but use it as an escape from what else might be going on," Komst said. "I loved being able to go workout and be surrounded by people who support me and make me smile no matter what I'm going through."
Komst has made remarkable individual achievements in the LHS weight room and on the fields, but she couldn't have done it without the support of all those around her; especially Michelle Hart-Miller, LHS' head trainer
"It especially meant a lot because my trainer, Michelle, had to nominate me for the award and my coaches had to write recommendations for me," said Komst. "I didn't even know about this, so the fact that they put in the time to do this for me is so amazing."
But her thanks extend to far more than just Michelle.
"I want to thank all the trainers at Londonderry, but not just Michelle," Komst said. "I want to thank Trenz, Gordon, Dave, Meghan, Connor, and every other trainer that has helped out. I also want to thank Macdawg, my softball coach, and Ms. J, my track coach."
Without the push and inspiration from these coaches and trainers, Komst never would've been able to balance sports, lifting, and school. All of the effort that has gone into her training has made it all become so much more special.
"It feels really cool to win this award," Komst said. "Seeing how only five girls around the country won, it makes me realize how all the work I put in is being recognized at a high level. I'm trying really hard to win the NHSCCA athlete of the year now too."

As Komst plays her last softball season at LHS this spring, she doesn't plan on quitting anytime soon. In the fall she will be attending Gettysburg College in Pennsylvania and continue to play softball, track, and continue to pursue her never ending lifting goals. But Komst has one more goal that's bigger than sports.
"I want to get kids to start going and feeling comfortable in the gym," Komst said. "I want to help girls realize it is okay to be strong and lift. No matter what people say, it's amazing to be in the gym and no one's words or actions should stop you."
View Comments (1)
About the Contributor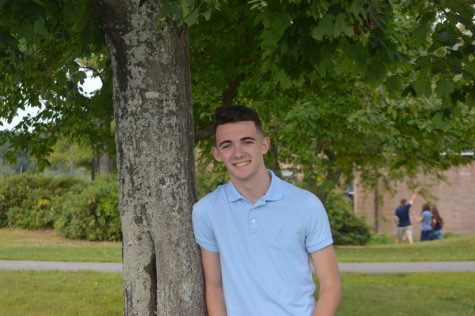 Tyler Wilbur, Executive Sports Editor
Big Sports Guy. Retired youth football and baseball player. Pro-gamer. Tyler is a sports guy's guy. Vivid outdoorsman. He's met more professional athletes than you.