Boys soccer starts season with Mack Plaque win
Boys soccer picked up where they left off last season with a 2-0 win against rival Pinkerton Academy on September 22. 
After a trip to the playoffs ended in a 2-0 loss to Keene in the preliminary round one year ago, the Lancers are determined to build on a successful finish to their 2019 regular season, where they ended the season losing only two of their last nine games.
"It felt great to get the win," senior midfielder Anthony Ramy said, "Overall it shows for good things to come."
Ramy is one of the two captains for this Lancer soccer team and is prepared to leave his mark leading his boys through battle.
"It feels great to be a leader," Ramy said," I have always wanted to be a captain of this team, and now that I am actually one, I feel like our group of players will get pushed to the next level."
Ramy's other captain, Derrick Apholz, started the scoring for the Lancers with the first goal of his senior year with just 12:34 left in regulation. Three minutes later, senior Hunter Smith chipped in with a goal of his own.
"I see our main strength being our chemistry," Ramy said, "A lot of us have been playing together since we were very young, so we all know what to expect from each other and how to hold each other accountable."
In goal was Tyler Cote, who shut out the struggling Pinkerton team that finished with just one win last season. 
The Lancers are looking at a tough schedule moving forward, playing Salem, Timberlane, Windham, and Nashua North. Ramy knows his team will always compete though.
"My expectations are that everyone on the team gives 100% effort all the time. I think that if we do that, our talent as a team will be able to take over," Ramy said.
About the Contributor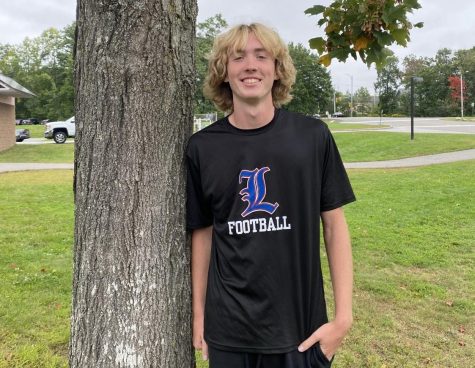 Grady Daron, Sports Multimedia Editor
Grady has been on staff since 2019, and has been a sports editor since 2020. He plays football, basketball, and baseball for the school, as well as being the class secretary for the Class of 2022. He likes sports and doesn't care who knows.