Back in the saddle: the equestrian team
Dogs are a man's best friend and horses are a girl's best friend. At least, that's the case for the riders on the Equestrian Team.
When someone mentions a team sport, you probably don't think of horseback riding. But there is just as much of a bond between a horse and rider as teammates in soccer.
For many of the riders, their love of horses and riding started young. 
"I have loved horses for as long as I can remember," sophomore Peighton Tapley said. "One Christmas my mom actually put a little note in my stocking that said I was getting lessons for the first time and I was over the moon about it!"
Tapley focuses on hunt seat, which is a form of jumping. She was nine when she started taking lessons and has been riding since. 
Talia BarNoy, another sophomore, has family members who own horse farms. She started riding because her cousin rode as well.
"All I wanted when I was younger was to be like my cousin and riding was a way for me to be like her and then I realized how much I truly love riding," she said.             
Unlike other sports, horseback riding has different disciplines. There's jumping, which is self explanatory, or dressage which is like dancing on horseback with its grace and beauty. There's even various kinds of saddles for different purposes!
The Equestrian team caters to all of these disciplines and more. Currently, all the riders on the team ride using an English saddle. These saddles are smaller and have less of a seat than saddles you'd see cowboys riding in. This is because cowboy saddles, known as western saddles, have different purposes than English saddles and vice versa. 
It's worth noting that there is no barn or arena on campus for the team. Football has their field and there's a track for the runners, but riders practice over in Newton, NH at CPM stables. Only downside to that is the ride over.
"I don't transport Atha for the Thursday lessons because trucking horses into Mass and then back into New Hampshire is very painstaking," BarNoy said.
They also only meet once a week.
The drive is long but thankfully, you don't need to bring a horse because CPM offers lesson horses and the ability to lease out a horse of your own.
Peighton Tapley rode Tommy, a horse at the stables, for the team. BarNoy is lucky enough to have her own horse, Atha. BarNoy does pleasure hunt seat for the team, which is no jumping or staying "flat".
The Equestrian team isn't limited to riders. There are also Spirits on the team, people who help groom horses and work on the ground rather than in a saddle.
Everyone on the team is valued and is in a supporting and accepting place, allowing riders and non-riders to learn more about their equine friends in a great way. Some riders knew the team would be perfect for them before they came to LHS.
"I had planned on joining the team as soon as possible once I heard about it in 8th grade," BarNoy said.
Like other spring sports last year, practices and games were cut short. The team was a week away from their first show when it got cancelled.
While that did take away from the experience, it didn't change the memories they had already made.
"Riding means the absolute world to me. It's a safe place where I can get away from the world and everything going on and work with incredible animals," Tapley said, "I have made so many friends through riding and have had so many cool opportunities provided for me and it's been the best!"
Leave a Comment
About the Contributor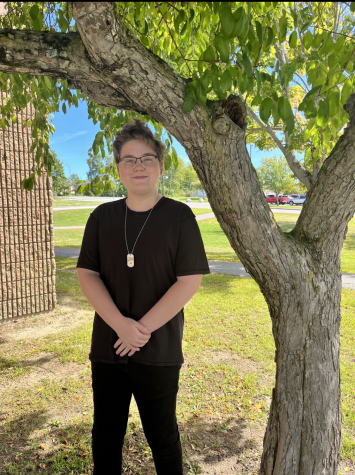 Andrew Macpherson, Opinion Editor
Senior Andrew Macpherson has written for The Lancer Spirit for three years, but this will be his first year as Opinion Editor. He is an avid activist for mental health and LGBTQ+ issues. In New Hampshire, he has spoken at the statehouse against harmful bills to the LGBTQ+ community. In his spare time, he enjoys riding his horse Whiskey.