Day of Giving is scheduled for Friday, February 18
After multiple postponements due to COVID-19 restrictions, the Lancer Pep Rally Team is hosting the annual Day of Giving on Friday, February 18. Only seniors will be allowed to view this event in the gym. Freshmen, sophomores, and juniors will stay in their C periods and watch virtually. 
The Day of Giving is made possible by LHS English teacher Mr. Juster and LHS Pep Rally Aides. This event is a highly anticipated event within the Londonderry community in which students donate eight or more inches of their hair to organizations which manufacture wigs for those suffering from hair loss.
Prior to 2018, this event was set in coordination with Pantene Lengths, however, they ended their campaign in December of 2018, switching to artificially made wigs.
"After years of successful campaigns, with one year even having 240 donors, Pantene informed us that they were done and had made enough wigs," Juster said. "People don't need them anymore? Artificial wigs aren't as good as the real thing." 
Following this news, former Pep Rally Aide, Jordan Galluzo, took it upon herself to continue this event.
"Galluzo mentioned the name, 'Lancer Lengths' and wanted to find our own groups we could trust," Juster said. "As such, we chose Wigs for Kids, Locks of Love, and Children with Hair Loss. We went through and cleared them to make sure they were legit."
This year, Lancer Lengths is choosing to donate to several different organizations based on length donated.
If you choose to donate eight to nine-and-a-half inches, your hair will be sent to Children With Hair Loss. If you choose to donate between ten to 11.9 inches, your hair will be donated to either Children With Hair Loss or Locks of Love. Donors have the option of deciding between the two options. If you plan on donating 12 or more inches, your hair will be sent to Children With Hair Loss, Locks of Love, or Wigs for Kids. Donors have the option of deciding amongst the three options.
The Day of Giving tradition was started in 2006 by Juster after watching a commercial of a celebrity donating their hair to Pantene Beautiful Lengths at a hospital waiting room. 
"Initially, there was just a pep rally, no hair donations or anything of the sort," Juster said. "In 2006, Mrs. Juster was at the hospital so I took the day off. We were in the waiting room and they were showing Diane Wade donating hair to Pantene Beautiful Lengths. They cut her hair live on the Today Show. I thought that was pretty cool. I was always looking for something more to do at pep rallies that had more substance to it, like something theatrical. I wanted to do things that could make the world better and energize the whole crowd. This [Pantene Beautiful Lengths campaign] looked like a good idea."
After watching the commercial in the hospital waiting room, Juster embraced the cause, coordinating a possible hair donation event at LHS with Pantene Beautiful Hair Lengths coordinators. 
"I thought to myself: 'I could throw this [event] out to the school and see what happens. People would love this for the cause,'" Juster said. 
Juster was able to kickstart this event after weeks of coordinating with Pantene, as well as overcoming an initial set of hesitation from the student body. However by January 2007, 67 students had signed up by January 2007.  
"Now we have a show," Juster said. "This is going to work. Before getting more than 67 donors, I remember telling the initial set of donors that if we got more than 50 donors, we'd be on the Today Show just like Wade. The goal I set for myself was 50 and there we were, with 67 angels."
Following the initial success of the event in 2007, Juster was given the opportunity to be featured on a segment of Good Morning America (a link could not be obtained by The Lancer Spirit due to time span).
"Just before Christmas, I got a call from Pantene saying that GMA was coming," Juster said. "I was so excited."
Soon after, Juster was offered to have the event filmed as a documentary by Pantene in 2010 as well.
When Juster had first started the tradition of the Day of Giving at LHS, the event was held in conjunction with the annual winter pep rallies. As time went on and more and more students signed up to donate their hair, the Day of Giving became an event of its own.
"Initially, I didn't know if [hair donation] would stand up as an event on its own so I thought to make it more of a celebration alongside the winter pep rally," Juster said. "In 2010, we had 143 angels, more than ever before, which led Mr. Psaledas (former LHS principal) to create a separate event for us. That's how we expanded it out to what it's known as today."
Years of coordination and planning led to the Day of Giving event being one of the most highly anticipated events of the year at LHS. 
"I just wanted to make the experience of this event magical enough to get people to donate for a great cause," Juster said. 
Leave a Comment
About the Contributor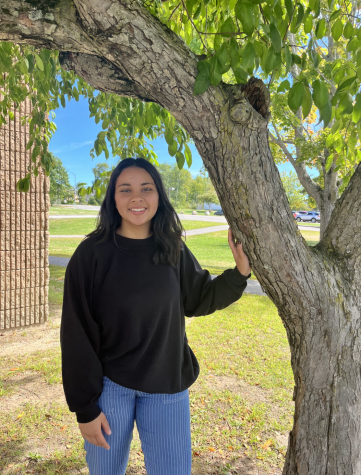 Alisha Khalil, Online Chief
Senior Alisha Khalil has been on staff for 3 years. Starting as a reporter her sophomore year, she is now The Lancer Spirit's Online Chief, Political Analyst, and News Editor. She started The Lancer Spirit's first Political news column. In her free time, Alisha enjoys making coffee and listening to music.