Girls' tennis is getting back together again
Londonderry's Girls' Tennis team is getting ready for the 2022 season with high spirits. This year there will be eight veteran players, a combination of both seniors and underclassmen. Coach Betty Wong-Mak is looking forward to building new relationships with the eight new additions to her team and bringing the "family" back together again. 
Once again this year, Mak's goal for everyone is "to be the best they can be and not settling for anything less."
Mak has high expectations for her players on and off the court. She prioritizes comradery, honesty, and hardwork. 
"With all three combined, you have the commitment," Mak said. "These are life skills no matter where you are."
The team as a whole cherishes those who work hard. Senior Laura Bowen is the team's number one player in the ranks. Bowen started to competitively play in her freshman year. She credits her rapid improvement to Mak.
"I love our coach, she took me in as a freshman with no experience and saw something in me," Bowen said. "[Coach Mak] is amazing at tennis and works hard to make her teammates the best tennis players they can be."
Bowen is also eager to get to know the new members of the team. Her idea of a great teammate is a person who is "willing to work hard for themselves but still supports others."
"I appreciate the teammates that don't look at tennis as an individual sport," Bowen said. 
As a returning veteran to the team, Bowen is not alone in her thoughts of the team being a support system. Teammate, junior Susan Kim believes that "caring and cheering for your teammates is most important."
"Unlike team sports such as soccer or basketball, tennis is an independent sport," Kim said. "When you play singles, you're the only one standing on that court representing Londonderry High School and that is a lot of pressure, but when I hear my teammates cheer me up everytime I score a point or hit a good shot, it reminds me that I'm not alone and my entire team has my back."
Mak's coaching style is distinguished by the fact that she makes it a priority to ensure each player understands how special and unique they are. 
"We appreciate people for who they are and we don't downplay anyone for their limitations," Mak said. "We learn how to build eachother up."
Kim also notices how Mak supports everyone as the independent player they are. 
"[Mak] focuses on bringing each individual's strengths [out to] shine on the court," Kim said. "Some players are better at certain skills than others and she uses everyone's strengths to make us play a better game."
Mak is also well known for her techniques in building a tight knit team. This includes having the team spend a lot of time together "forming a special sister-like bond."
"Coach Betty really treats all of her players like her daughters," Kim said. "On the first day [of every season] she circles up the girls and says, 'We are now a family and you guys are like my daughters.'"
Fellow teammate, sophomore Jillian Mazzola also had a lot to say about Coach Mak and her ability to tie the team together. 
"[Mak] takes you under her wing and makes you feel like you can succeed," Mazzola said. "She is one of the most supporting people I have ever met, and she loves everyone like a daughter."
This year Bowen, Kim, and Mazzola plan to carry out their season with determination and hard work practice after practice. However, this season will not only include stepping up their game with tactic and volleying skills.
"For the teammates, tennis season is much more than just 'spring sports season'," Kim said. "For us, It is time we get to spend with our sisters and that is why all of the girls have so much fun and return the next year."
Leave a Comment
About the Contributor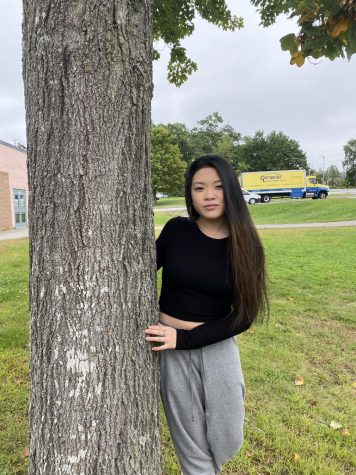 Natalie Karlson, Design Editor
Natalie is the design editor and this is her first year as a staff member for LSO. She designs magazine pages and draws pictures for article thumbnails. Natalie designed the Lancer Spirit ink logo and has written a wide variety of articles from opinions to creative writing.