When she steps onto the basketball court, this freshman feels like 'nothing else matters.'
When freshman Kate Sloper found out she made varsity basketball she said "it was definitely a shock." 
"I did not expect this to happen," Sloper said. 
With this being only her first year playing high school basketball, Sloper has had to adapt to the new team community around her.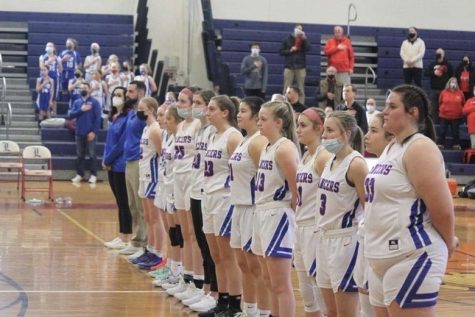 "There weren't a lot of returning seniors, so I've kind of had to be an individual and be myself around them, " Sloper said. "There's been some hard things, because being a freshman with seniors is kind of hard, but we've done great at working well together. They're a great group of girls."
Sloper has been shooting hoops for a while on a variety of teams. She played recreational basketball in first and second grade and she played for Londonderry Basketball Club (LBC) during her remaining elementary school years. Throughout middle school, Sloper played for the LMS L team and now in her freshman year, she is playing for Varsity and Amateur Athletic Union (AAU).
Sloper had to adapt some elements of her game when she transitioned from middle school to high school.
"I think with being the top dog last year there wasn't as much competition," Sloper said, "but now this year when the kids are three years older than you, it's a big difference."
Throughout her basketball career, there have been some significant people who inspired Sloper and drove her to continue playing. One is LHS alum Aliza Simpson, who is a D1 basketball player at UNH. Simpson has been Sloper's role model "since she could pick up a basketball."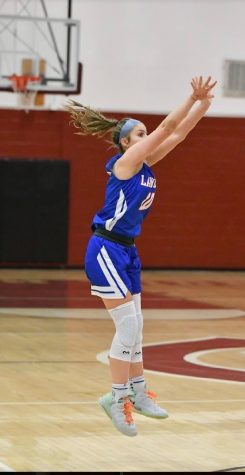 Off the court, two people who have always supported Sloper throughout her entire basketball career are her parents.
"They've been there with me through thick and thin and they've done everything to help provide for me and to help get me to where I am today," Sloper said.
Senior Madelyn O'Shaughnessy is another person who Sloper admires and respects. Since O'Shaughnessy can no longer play sports due to her several concussions, she has taken the role of team manager and captain this year.
"The fact that she still shows up to everything and tells everybody what to do shows that she is such a great leader even though she is under the circumstances she didn't want," Sloper said. "We call her our second coach."
The admiration and respect Sloper has for O'Shaughnessy goes both ways. The senior noticed her talent and skill and praised her for it.
"Kate was one of our top scorers and became a strong leader," O'Shaughnessy said. "She stepped up into a big role on our team as a freshman and never backed down."
Although Sloper was a new addition to the team, O'Shaughnessy felt like she had been playing with her for years. 
"She fit in perfectly," O'Shaughnessy said. "No one treated her as less because she was a freshman. We were all on the same playing field. I became very close with her and I am so glad to have had her on the team."
Senior Liv Chau, who is second team all-state and was NH Sports Page's Player of the Week, also said Sloper "played really well this season."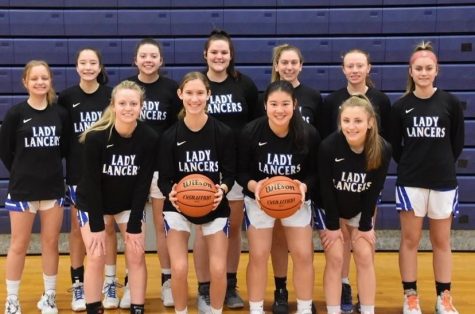 "Kate had a huge impact on the team," Chau said. "It was really impressive to see her step up into a big role."
Off the court, Sloper gelled with the team from the beginning.
"Despite never playing with her before, it felt like I had known her for a while and loved having her as my teammate," Chau said. "She has a very bright future ahead of her."
This year the girls had a new coach, Jon Doherty. Sloper credits Doherty for helping her improve her performance on and off the court. She said he encourages the girls and provides positive feedback.
"I think he has really helped me grow as not only a basketball player, but as a person," Sloper said.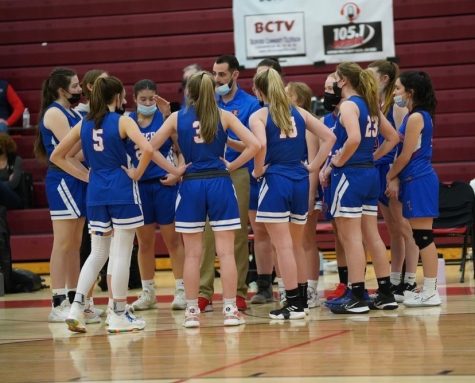 Coach Doherty said he named Sloper his "Most Improved Player" this season as she "improved every game and found success on the floor both defensively and offensively."
"I am extremely proud of her and cannot thank her enough for everything she did for this team this season," Doherty said, "and I am so excited to have her moving forward."
An unexpected setback that Sloper faced early on this season was breaking her finger mid-game. When Sloper tried to catch a ball thrown to her, her finger got caught onto the ball and it went sideways. 
"At first I didn't feel anything," Sloper said. "I just knew it was sideways and all I did was sprint to my coach and I was screaming. 
Sloper didn't let the injury get in her way. As soon as her coach popped her finger back in and got her a bandage, she went back into the game.
"My coach was like 'Kate, I think you should maybe sit out' and I was like, 'no I'm good,'" Sloper said. "I try to let it not get in my head but I think sometimes it gets me a little. I'm trying to be careful but I'm also trying to play hard at the same time."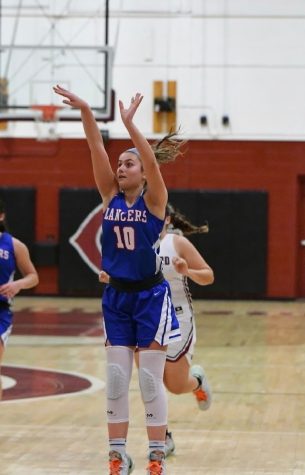 Even with that injury early in the season, one of Sloper's biggest contributions to the team was her ability to put the ball in the basket, becoming the team's second leading scorer with around 11 points per game.
"Kate was instrumental to our team's success this year on and off the court," Doherty said. "She leads in her own way and found success on the court in her own way this year."
The moment Sloper recalls feeling the proudest of herself during the season was in a game against their rivals, the Pinkerton Astros.
"It was my highest scoring game," Sloper said. "I scored twenty points and this especially felt good since it was against our rivals who were the first in our division. I think that was also one of the best games we've played as a team."
The team bonding doesn't stop on the court, however. Outside of practice, the team also spends a lot of time with one another.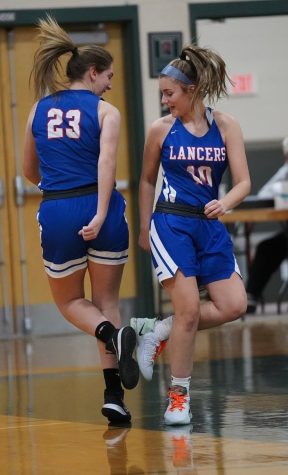 "We do tons of things together to build up our teamwork," Sloper said. "We have a lot of pasta parties and have lots of fun on bus rides back from away games when we're all singing and laughing. We're honestly one happy family. We always are with each other and there's no drift in the team. We are all friends."
The team shared countless victories and memories together, but one that was the most prominent to Sloper was their game against Concord. The girls won in a deafening blow against the Concord team while they were the fourth seed and LHS was the thirteenth. 
"Everybody said that we couldn't do it," Sloper said. "I mean if you think about it, 13 and 4 are two completely different numbers, especially in the rankings. Everybody doubted us but we came together and we eventually won and shocked everybody."
The doubt that the team was able to crush encouraged the girls to perform at the highest level.
"We didn't want our season to be over, and we weren't going to have our season be over to a team that we only lost to by two points in the regular season," Sloper said.  
While there are countless aspects of the sport that Sloper appreciates, her favorite would have to be how she feels when she steps onto the court. 
"It's just me and the ball and I get to run around and take all my energy out and everything that's happened that day," Sloper said. "I just think about that and I go out and play."
View Comments (2)
About the Contributor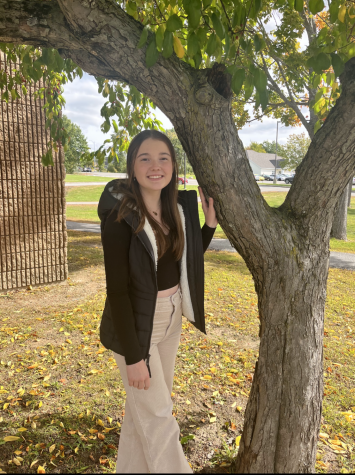 Emma Desrosiers, Executive Sports Editor
Junior Emma Desrosiers is cordially occupying the position of Executive Sports Editor for her first year on staff. In her free time, Emma enjoys playing field hockey on her club team, hanging out with her friends and family, and listening to music.