With a record of 16-2, girls volleyball closed out their regular season with a win, and are now in the semi-finals after two home wins this week versus Nashua South and Dover. 
Freshman Riley Campo feels that the season has been going very well up to this point.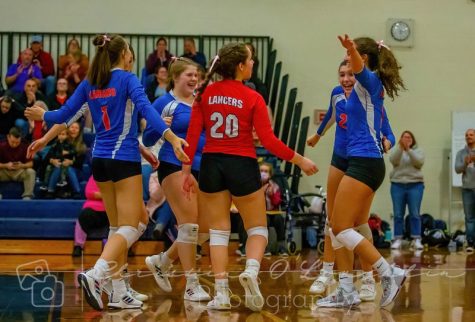 "I feel like we are playing great as a team," Campo said. "It's been a fun season so far."
The girls volleyball team's record of 16 wins in their regular season proves that this team is pretty familiar with the fundamentals and key skills the sport requires. Campo believes that "blocking, hitting, and serving" are just a few of the team's strengths this year. The team is also very close in nature and have created many amusing memories along the way. 
"I would say my best memory from this year was when I hit a girl in the head inside the ten foot line," Campo said in a jokingly manner.
While winning a game is satisfying in the moment, Campo strives to always look to the future and prepare for when that time arrives.
"My goal is to always win the next game and make the championships this year," Campo said.
Along with Campo, junior Abby Harrington has high expectations of the team going into the playoffs due to their consistent successes on the court.
"We have completed a lot of goals that we set at the beginning of the season and are working hard to complete the rest," Harrington said.
While this team dominates the court with their skills, they are cautious in making sure that they are playing at the highest level possible.
"Our strengths this year are playing our own game and not playing down to the level of the other team," Harrington said.
A game that was monumental for the team this season, as well as many other teams, was the Mack Plaque game. 
"My best memory from this season is sweeping Pinkerton at Mack Plaque and then going to support the other teams at their games," Harrington said.
Harrington is hopeful to go far in the playoffs as well as to "continue playing as a team and working as one."
Similar to her other teammates, Ally McGonagle also feels very confident in how the season has gone thus far.
"I'm super happy with how the season has been going," McGonagle said. "I can't wait to see how far we go!"
While wins are common for this team, it hasn't been a one person effort. It's been the entire team working as a unit.  
"I think the team definitely has individual talent," McGonagle said, "but we have done a great job playing collectively and I can see our trust increase as the season progresses."
While winning is a focus for this team, they also allow themselves to have fun when they play, whether it's accidental or not. 
"My favorite memory was when [senior] Ashley [Sarazin] screamed 'woah!' when the opponent made a mistake," McGonagle said.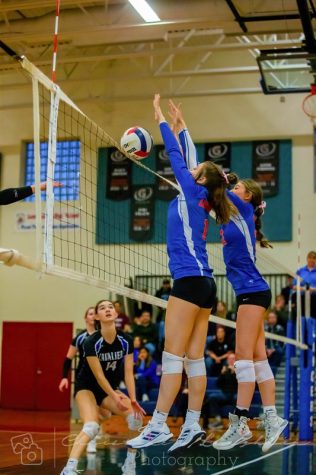 Knowing that this season is almost over, McGonagle looks to enjoy the rest of it with the team and continue the winning pattern. 
"I hope to maintain a positive record as we begin the second half of the season and make the most out of the last months we have together," McGonagle said.
Senior Lexi Small's outlook towards this season is a very positive one. She believes the team has good chemistry, which dates back even to middle school. 
"I feel like this season is the best season Londonderry has seen in probably a decade," Small said. "We're all working towards one goal and we play for each other. We're a team where most of us have been playing together since sixth grade and our record shows that."
Small also believes that the team's strengths are each other, when one side may be down the other can help them out.
"Our strengths vary from game to game," Small said. "It's like we cover for each other. If our offense is struggling one day, our defense makes up for it and never lets the ball hit the floor. If defense is struggling during a game, our offense takes control and puts the ball down. But overall, we support and celebrate each other."
Most seasons are full of big games and some moments come with a taste for revenge. The most meaningful moment Small experienced was beating Dover in their own gym. One of the goals that the team made at the beginning of the season was to beat Dover since last year they were in a "nail-biter" game with them and lost in five sets.
"This year, we only had a few dedicated fans who drove to Dover to bring the energy," Small said, "but somehow our team and the few fans and parents were louder than Dover's student section. It was probably the most fun I've ever had playing volleyball. That game that really set the tone for how the season was going to go."
Similar to her teammates' wishes, Small hopes her team continues to dominate their division.
"One of my goals for the rest of the season is remaining #2 in the state," Small said. "I hope to continue with just our singular loss to the #1 team, Bedford. The entire team is working towards the goal of getting to the championship game and getting the win. Since preseason, Coach and I have been saying that we are in need of a ring this year!"
Along with many of the players, Coach Matthew Leonard is awaiting the upcoming playoffs, excited to see how the team's hard work and solidarity will pay off.
"We have been working extremely hard this season, for over two months at this point," Leonard said. "Our focus is playing for each other; to lift each other up in challenging times, best moments, and all the times in between. Each player has a teammate, or two, that they focus on when they need some positive energy.  It is just a reminder that we will play our best when we play together."
While the team has had some challenges over the season, their main focus has been trying to get better every day and be playing their best at the most important time of year, being playoffs. 
"I can see the growth in each player throughout the season and more importantly, the growth of the team as a whole," Leonard said.
Seeing the players working together as a whole and improving their skills individually is one of the many aspects of this team that brings Leonard joy.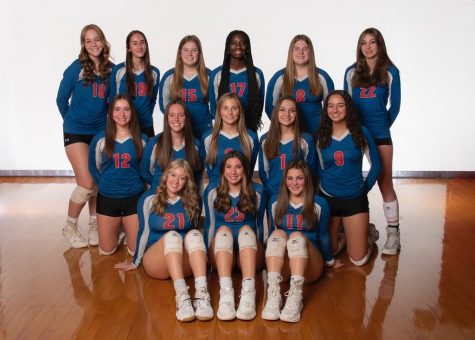 "Our team is incredibly competitive and due to this, so many players have truly played their best volleyball of their lives," Leonard said. 
Something that has been "amazing" for Leonard to see, is the team having a collective growth mindset.
"Each player is at a slightly different place as they grow as players and young adults," Leonard said, "but altogether, the team works to bring everyone forward as a full unit. It is fun to see."
Leonard's favorite aspect of watching the team play this season changes from game to game and practice to practice, but overall, Leonard is proud of the level of commitment the team puts in every day.  
"When we have our best moments, we find pure joy in overcoming obstacles together," Leonard said. "We know that perfection is impossible, but we are always striving for greatness on the court and off. I am proud of everything this team has accomplished."
As the players are quickly approaching their playoff games, Leonard's words of advice to his team would be this: "Continue to play together, play for each other and focus on being the best you can be for your teammates and yourself."
"If we do those things, we will play great," Leonard said.
The team, players and coaches, would like to thank our families for supporting us every single day both with volleyball and in life. We would also like to thank the fans that come to our matches and provide an extra boost of energy.  We hope that you enjoy each match we have for the rest of the season.