Varsity Girls' Volleyball reflects on their season
"Lancer Superfan" shirts created a sea of white as students began filling the stands in the Pinkerton gym, showing their support for Girls' Varsity Volleyball. This past Tuesday, November 1, dated the highly anticipated semifinal game versus the Hollis-Brookline Cavaliers. When the buzzer rang out marking the end of the first set, the crowd's cheers filled up the gym, celebrating the Lancers' victory. Unfortunately, throughout the following three sets, the Lancers fell to the Hollis-Brookline team ending with a loss of 3-1.
According to junior Abby Harrington, the greatest fault the team experienced in the game was running low on energy.
"I think it's hard to recover from that," Harrington said.
The Lancers battled on and off the court all year and made winning even more fun with the energy they brought to each game.
"We had two reverse sweeps in the last few weeks and those are really fun because you kind of come out of nowhere," Harrington said.
Harrington is "excited" to see what the team can bring into the next season building on this year. 
"I am going to miss playing with all the seniors and I'm excited for next year," Harrington said. "Thank you to everyone for such a great season."
Junior Ally McGonagle is "so proud" of the team this season with the players using their skills to accomplish a cohesive goal. 
"I feel that one of the team's main strengths was definitely playing together," McGonagle said. "We all have our own individual talents and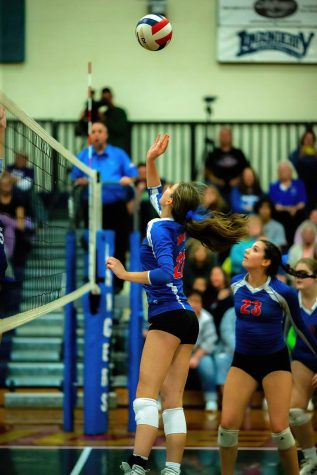 did a great job of executing them in different ways."
McGonagle feels like "the vibe wasn't really there with the whole team" due to the pressure of it being their first and final chance to make it to finals.
"I think we wanted it so bad that we put this pressure on ourselves to perform so well," McGonagle said. "When you do that, the nerves get high and then you just kind of stop playing. I think if we had just calmed down a little bit it might have been different in the end."
This season of volleyball was "the best" McGonagle had ever played in her life. With it being her first year at the school, McGonagle has grown to love the energy of the community around her.
"On the team, everyone's just such a family and I just love being around them," McGonagle said. "I thank [my coach] for being so welcoming to me and trusting me to come onto the court not even knowing me. Thanks to everyone, I am so appreciative of you all."
With Hollis-Brookline being one of the two teams defeating the Lancers in the regular season, their team possesses undeniable talent that cannot go unrecognized. According to Coach Matthew Leonard, "they are a great team, but so are we."
"They have a lot of experience and I think that experience showed up later in the match tonight," Leonard said.
Although the Lancers had some difficulty during the middle sets, they persevered and battled for every point. Leonard believes that the skills the team has been working on in practice really shined in their performance this game.
"The best part is we never gave up," Leonard said. "We're really working on hitting hard balls and making them work for every point and I think we did that at the end, really all night we did that."
After making it to the Final Four this year, the girls were able to get that experience under their belt and get a taste of what they hope to accomplish moving forward. When looking at the upcoming season, the team seems to be in good hands.
"We have five returners that are really going to fight to get back here again and hopefully bring whoever their teammates are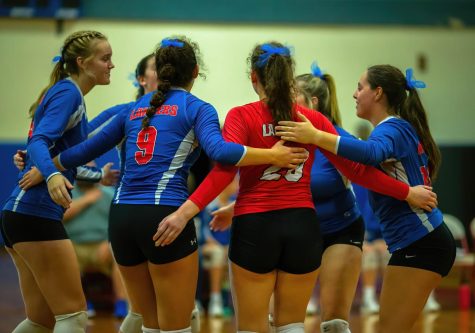 next year along with them," Leonard said.
This game was an especially tough loss for the seniors with it being their last game wearing a Lancer jersey. Throughout the season, the seniors made many memories with the team and achieved many goals on the court.  
"I'm so proud of them," Leonard said. "They've built this legacy that I think we are going to continue to build upon and they'll never be forgotten in our gym."
Leave a Comment
About the Contributor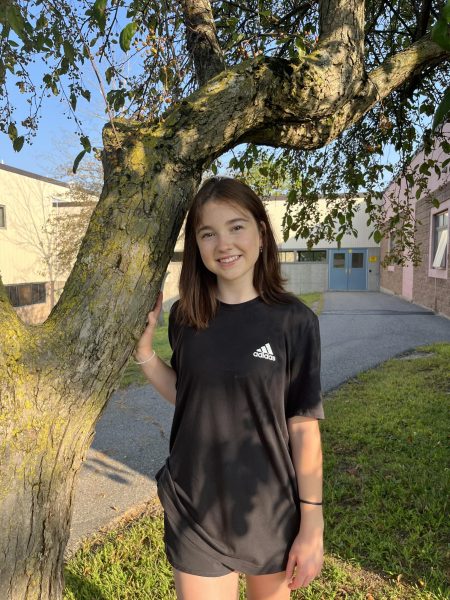 Emma Desrosiers, Assistant Editor-in-Chief
Senior Emma Desrosiers is cordially occupying the position of Assistant Editor-in-Chief for her second year on staff. In her free time, Emma enjoys playing field hockey on her club team, hanging out with her friends and family, and listening to music.