Gymnastics team optimistic for season despite injuries
With four starters out for the first meet, and two of them out for the entire season, this team is working diligently to achieve their goals. The girls had their first meet on Thursday, December 15, where they competed against gymnasts from Goffstown, Alvirne, Campbell, Pelham, Windham, John Stark, Exeter, and Spaulding. Prior to the meet, the senior captains and team coach shared their thoughts and feelings on the upcoming season.
Senior captain Ava Ruppel is "really looking forward to this season."
The team is already enjoying practice and Ruppel believes that their dedication for the sport will be reflected at their meets. 
"Working hard in practice for the past couple of weeks in order to prepare has left the team feeling "a little nervous, but still confident," Ruppel said.
"We are all very supportive of one another, which is the most important thing," Ruppel said. "We're also all very hardworking gymnasts, so I believe that that will work out well for us."
Ruppel is "very excited" about the dynamic of the team this year due to the girls having stellar camaraderie on and off the gym floor. 
"We work together very well, which is what we look for in a sport like this, because there is nothing like being cheered on by your teammates that really want the best for you and the team." Ruppel said. 
Ruppel is looking forward to the team's upcoming meet and to share another season with her teammates. 
"I'm excited for us to get back into season fully, and meets are the best times for us to bond as a team," Ruppel said. 
Senior captain Peyton Beirne believes that to say she is "excited" for the upcoming season is an understatement. 
"I've been looking forward to the start of the season and cannot wait for my senior year," Beirne said. 
One of the main strengths Beirne feels that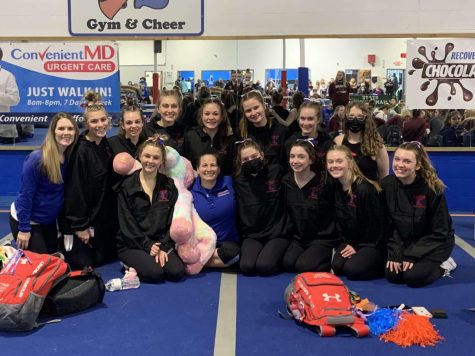 the team possesses is their positivity, with their weakness being the lack of team bonding. 
"It's very early in the season, but as the season goes on, I'm confident that we will get stronger as a team," Beirne said. 
With it being her last season of high school gymnastics, Beirne hopes to make the most of it and enjoy it to the fullest.
"It felt like it was yesterday when I was just a freshman," Beirne said. "One of the highlights of this year is being someone the underclassmen can look up to."
Senior captain Jessica Bolduc is closing out her time as a LHS gymnast and feels grateful to complete her season alongside her team.
"I am looking forward to this upcoming season and getting to spend my last season of gymnastics with this group of girls," Bolduc said.
After practicing for about two weeks, the gymnasts have gotten to know each other well. Bolduc is feeling thrilled
to compete with the team at the upcoming meet, despite the difficulty that comes along with competing at home.  
"A difference for our team when competing at home is that we don't have a spring floor," Bolduc said. "It makes things a little more difficult but we make the best of it."
An aspect of the gymnastics season that Bolduc is excited for is the memories that will be made while traveling with the team. 
"I am looking forward to the bus rides with my teammates when we listen to music to get excited for the meet," Bolduc said.
Recently having started their practices and perfecting their routines, senior captain Marlie Fitzgerald is "very optimistic" about the upcoming season and team.
"I think we are very positive and have so much fun, which is one of our strengths," Fitzgerald said. " We have many new people joining the team this year, so we are all trying to get to know everyone and develop into one big team."
Words Fitzgerald would use to describe the team's dynamic this year would be "fun, spirited, and hardworking."
"We are able to make practice entertaining, but also ge
t done what we need to," Fitzgerald said. "I think we are very lucky to be able to have this environment."
Fitzgerald is looking forward to competing with all her friends and making unforgettable memories her senior year. Along with that, Fitzgerald is eagerly waiting to see how well the group of girls will develop and evolve over the course of this season.
"I know we have an amazing season ahead of us, and I can't wait," Fitzgerald said.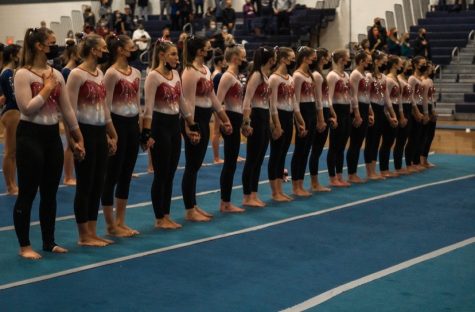 Head coach Heather Tuden, however, is feeling "a little nervous" for the upcoming season.
"This is mainly due to all the injuries we have already sustained prior to the season even starting," Tuden said.
Although many of their talented gymnasts will not be able to participate for their first meet, they haven't stopped working hard to guarantee their team is the very best they can be.
"We are working hard to get the new members of the team ready with new skills and modifying their routines to ensure everyone has their requirements," Tuden said. "We have a large freshman class with a lot of talent; many of them are stepping up to help the team."
Tuden believes the depth and talent the team possesses is what makes them stand out among their competitors. With the troublesome situation they are currently facing, having a versatile team will be the solution.
"Four starters are out, but we have other girls who can fill in on events so we can put up a full lineup," Tuden said. 
One of Londonderry's weaknesses is the competing floor at home, since they are on a non-spring floor. Due to this, the girls will need to modify their tumbling.
"We are hosting three meets this season, so we are factoring in three non-spring floor meets, whereas all the other teams are only having one or none if they don't travel to Londonderry," Tuden said.  
Although the gym floor is not the typical practicing surface that these gymnasts train and compete on, Tuden feels a sense of pride in the fact that schools all over the state will be competing in their home gym.
"I'm very proud that [LHS] is the only school that still has meets truly at home," Tuden said. "We are lucky in the fact we are able to practice and make these modifications prior to meets."
Tuden has a positive outlook on this year's team, as an effect of having "very strong leaders," in seniors Jessica Bolduc, Peyton Bierne, Marlie Fitzgerald, and Ava Ruppel.
"All of these women lead by example in and out of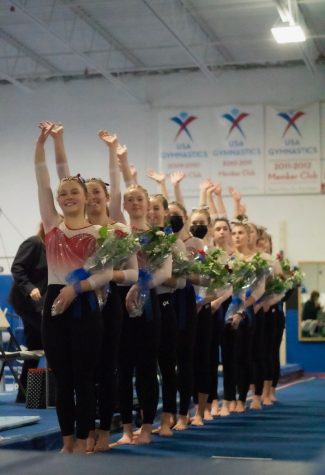 the gym," Tuden said. "They are very open with the team and welcoming to our new members."
One aspect that Tuden "loves seeing" with high school gymnastics, in comparison to club gymnastics, is that it's truly a team sport.  
"If one girl has a bad event, she has five others to help pick her up," Tuden said.  "The girls are hugely supportive of each other and our captains are going to lead us to a great season."
Since many of the girls compete in clubs, they have grown accustomed to the mindset that they are independent in the sport. Tuden believes that enforcing the idea that the team has one another to depend on is important.
"High school gymnastics is a team sport and as the coach, it's my job to break that independent thinking," Tuden said. 
Tuden has been a gymnast for 20 years, and competed for Londonderry from 2000-2003. She then went on to compete for Springfield College for four years. 
"I loved the team aspect of the sport of gymnastics," Tuden said. "Many of these gymnasts don't have any exposure to this until they do high school gymnastics. 
Tuden is looking forward to seeing how the team will come together and overcome the injuries they have already seen.  
"I look forward to seeing my freshman experience this [season], my returning gymnasts to show them what it means to be a team, and my seniors to have an amazing and fun last year," Tuden said.
Leave a Comment
About the Contributor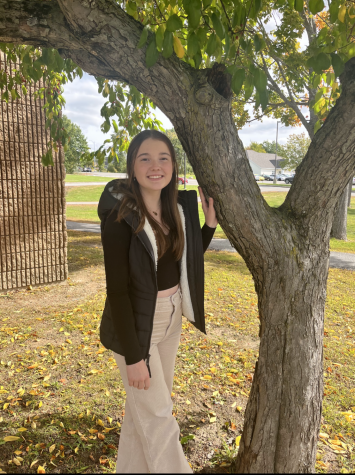 Emma Desrosiers, Executive Sports Editor
Junior Emma Desrosiers is cordially occupying the position of Executive Sports Editor for her first year on staff. In her free time, Emma enjoys playing field hockey on her club team, hanging out with her friends and family, and listening to music.