Seniors place in top 3 of New England Championship track meet
After completing their first competitive high school indoor track season post-COVID, seniors Anthony Amaro, Ryan Fortin, and Sean Clegg placed in the top three of the New England Championship Meet.

Keeping in mind the challenges that they overcame, senior Anthony Amaro is "definitely proud" of himself for qualifying in the regional meet. An aspect of this season that Amaro believes has contributed to his success, is keeping his head level despite any adversities that were to arise. 
He said if he could give his past self a message, it would be this: "Stay focused and not to stress over a bad race or a poor result."
"There is always something to get better at," Amaro said, "and when you can identify it, it can directly affect your performance on the track the next week." 
With this being his senior year, Amaro was consistently focused on making a positive impact on the team. To Amaro, it was equally important to work hard improving his own performance, as well as utilizing his years of track experience to guide and offer advice to the younger members of the team as well. 
 "Leading the underclassmen and showing them the fundamentals while also working to get better myself was fun and helped me to get back to the basics and have success at the meets," Amaro said.
When reflecting on the entirety of his high school track career, Amaro takes the most pride in his 4x100m relay team at the 2022 NHIAA Meet of Champions last June. By continually improving their times all season long and "working hard week in and week out," the boys were rewarded with a state championship at the meet.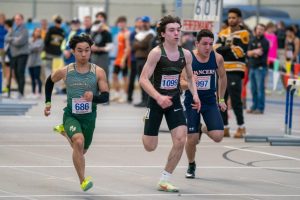 "We came in prepared and everything went smoothly in that race," Amaro said. "I was ecstatic when [Lancer Alumni Sam Street] crossed the finish line in 1st and along with that, we also set a personal record. 
By the end of the 2023 track season, Amaro was able to see the improvements made by his teammates, as well as himself. With a number of the members being novice runners or in the process of determining which event is for them, the team collectively made sure to encourage one another and establish supportive morale. 
"Some of our team that joined this season had never run track before or had switched events," Amaro said," "but by the end of the season, they looked comfortable and we had a solid amount of qualifiers at DI's.
Although his high school career will be coming to an end this June, Amaro is not slowing down. Amaro will be continuing his education at either Bryant University or UNH and will be running Division I track. 
Senior Ryan Fortin also "felt good about going to NE's," stating that the three of them had "a great time." The leading factor in the seniors' success would be the community over the last few years that has encouraged them throughout all their wins and losses. 
"Having a good team, coach, and opportunities contributed to our success," Fortin said.
Although there were many moments that Fortin appreciated throughout the 2022-2023 season, the Division I Meet highlighted the best aspects of the team and of the individuals that made it whole.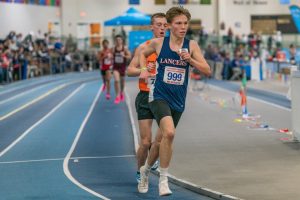 "We saw the best performances of the team," Fortin said.
It's not looking like Fortin's sneakers are going to be white anytime soon, as he will be continuing his career out on the red dust track after graduation. Although a school has not been confirmed, Fortin will be furthering his education and running track and cross country this fall. 
Along with Fortin, Clegg found it "very exciting" to have been able to place at the New England Championship Meet.
"The meet is very competitive and only the best of the best get to go, so to be able to place was a great feeling," Clegg said.
The preliminary facet Clegg believes has led to his success throughout the course of this track career, would be the early training months.
"Building a good base and working harder than your competition in those weeks definitely separates you from the pack." Clegg said.
If Clegg was to reflect on his athletic performance as a novice runner, "trusting the work he puts in" and "having faith in himself" are two pieces of advice he would have appreciated to have been told.
"Results and success don't come right away, but you have to believe that what you are doing will eventually make a difference," Clegg said. "Confidence in yourself is key to being the best athlete possible. It's also equally important to have fun while doing it. Finding that love for what you do makes a huge difference."
Winning a state championship during the 2022 track season is the accomplishment that reigns supreme in Clegg's mind and embodies his skills and dedication for the sport.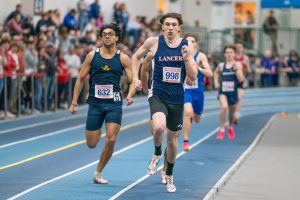 "It took a ton of work and sacrifice to get there and even when I did get there, I was still doubted by many that I would be able to win," Clegg said. "So to be able to win and prove to others and myself that I was able to win, was a big moment for me."
Watching his teammates' hard work "come to light" is what Clegg feels the most grateful to witness, and he was able to experience that this year at DI's.
"[By] training with them every day, I know the effort they put in, so to get to see them all succeed was definitely very fun for me," Clegg said.
Clegg's journey will not be coming to a halt anytime soon, as he has signed to run track and further his education at Coastal Carolina University.
"I'm very excited and blessed to have the opportunity to continue my athletic career and live out a lifelong dream of competing at the Division I level," Clegg said.
Leave a Comment
About the Contributor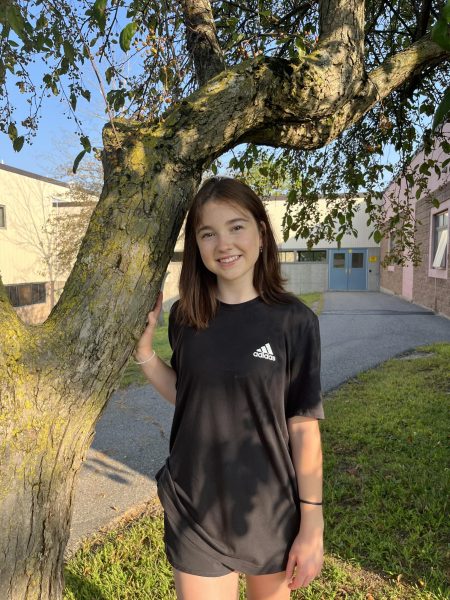 Emma Desrosiers, Assistant Editor-in-Chief
Senior Emma Desrosiers is cordially occupying the position of Assistant Editor-in-Chief for her second year on staff. In her free time, Emma enjoys playing field hockey on her club team, hanging out with her friends and family, and listening to music.