The LHS robotics team, otherwise known as team 1058 of the First Robotics Competition, the PVC Pirates, had their first annual meeting welcoming in the 2023-24 season this Monday, Sept. 11.
Upon greeting the new members to the team, mentor Brendan McLeod opened the meeting with an abrupt history lesson. Created in 2003 under the name "The Londonderry Dragoons," the experienced mentors of the team have been building specialized competitive robots before some of the members were even walking. 
McLeod along with another mentor Matt Mayer gave multiple demonstrations to the new members throughout the night. McLeod related building these robots to building with Legos.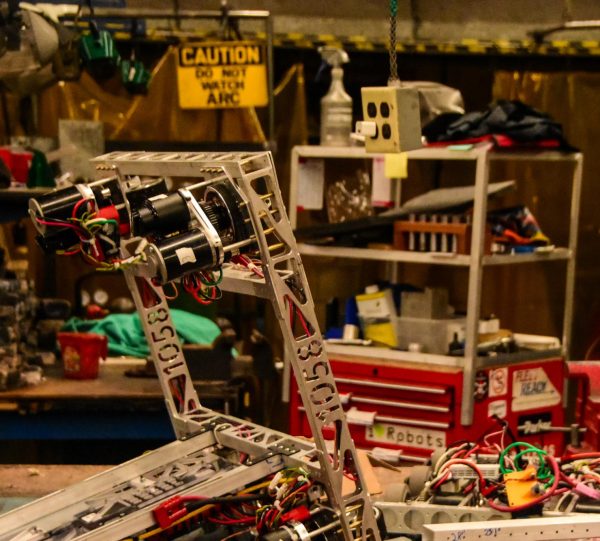 "Here at LHS robotics, we don't start with Lego pieces," McLeod said. "Imagine if you had to build all your Lego pieces and then figure out how to put them together."
 While McLeod referenced Legos, the other mentor Matt Mayer displayed a programmed LED show. 
"To a lot of people, coding seems to be this foreign language…as you will see, it can be much more fun and intuitive than it looks," Mayer said.
Mentors like Mayer welcome anyone who is interested aboard the Pirates.
After touring the shop, both the veteran team members and the mentors took turns sharing reasons why they stayed at the club, and how it affected their lives in the most positive of ways. After coming to his first meeting, senior member Sean O'Donnell was "hooked." 
"I joined because I had a mild interest in coding," O'Donnell said. "I stayed because I thought it was cool to see the robot do what I told it to."
Robotics is a great place to meet friends and develop relationships with others. From having a competitive spirit to FIRST Robotics' "gracious professionalism", competing with any team is a great way to develop technical skills while also becoming a better human being.
"I joined the team in the summer before freshman year because I'd heard amazing things about it from the community," said senior Brendon Saranich, team captain and seasoned competitor on the drive team. 
"I was nervous that it would be a tight-knit group not open to outsiders," Saranich said, "but I was pulled in immediately. The team not only gave me access to the entire online system from day one but also started teaching me, one on one, how to use the design software. It's an incredibly welcoming environment, which I've worked hard to maintain and grow in my time as captain."

Saranich believes that the team "cares deeply about gracious professionalism," as the group as a whole focuses a lot on "preparing members not only for the workplace, but also for life."
"Through team values, rules, and group discussions, we ensure that at events and meetings, all members treat each other and others with respect and act in a manner acceptable in the workplace," Saranich said.