The boy's golf team has been on a tear this season, and two boys have made their way into the State Championship round. Senior Patrick O'Connor and junior Carter Browning are representing LHS on Saturday, and they are excited to tee off on what should be an exciting weekend. 
Browning is very excited to get out on the golf course and feels "amazing" for having this opportunity. 
"This was one of my goals all year and now I can say that I accomplished it," Browning said.
Browning feels his biggest challenge will be himself, and hopes he can overcome that on his way to the championship. 
"My biggest concern is really just trying to do as good as possible," Browning said, "mentally staying in it to give myself the best chance."
Browning feels confident in his ability to get to the cup and hopes he can continue with this on Saturday. 
"I think my greatest strength going in will be my approach to the game," Browning said, "Using irons and wedges will be my biggest advantage."
Browning feels that being named state champion would feel "fulfilling.".
"It takes a lot of focus to even come close to winning and to be a state champion," Carter said.  "It would be great knowing you're just as good as anyone in the state."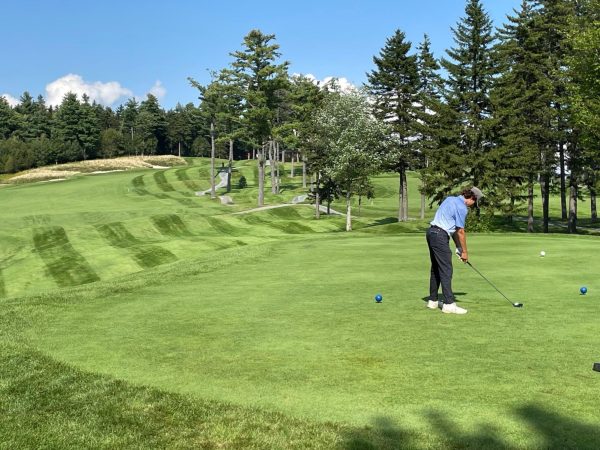 O'Connor is going into Saturday down four strokes from first place but feels confident in his ability after coming back from an inconsistent season. 
"It feels great coming from an up and down year of both low and high rounds," O'Connor said. 
O'Connor wants to keep his goal subtle on Saturday, and wants to "just golf."
"I just want to go low and play well Saturday," O'Connor said. 
The weather is setting up well for O'Connor, and he feels that it might help him come back in the championship. 
"I can play well in the rain or overcast weather," O'Connor said. "Saturday it's supposed to rain so it could help me"
For O'Connor, this is his last golf match as a Lancer, and hopes to continue the trend he started last winter when he won the state championship in wrestling. 
"It would be great to be a wrestling and golf state champ," O'Connor said. "As they are both individual sports and just rely on me performing to my best ability."
Among the boy's biggest supporters is their coach, Dan Grant. Grant expresses how the team has continued to get better as the season has progressed and ending the season with Londonderry's best-ever finish. 
"Success never occurs in a straight line, there are always ups and downs over the course of a season," Grant said.  "The goal is to always improve and play better and smarter at the end of the year compared to the beginning. This team did exactly that, they weathered a few rough matches early in the year, continued to work and enjoy the process, and finished 3rd in the state."
Grant  has confidence in O'Connor, and he's "expecting him to play really well on Saturday."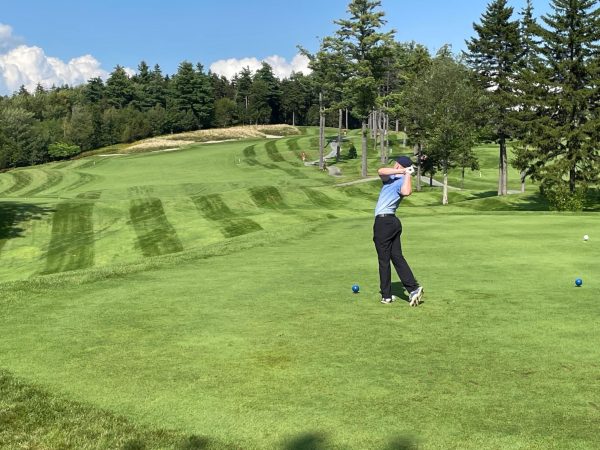 "[O'Connor] needs to stay the course, trust in his game and himself, and understand that bad shots will happen over the course of 18 holes but he can't let a bad shot affect his next shot, that hole, or the next hole," Grant said, "Because he hits way more 'good' shots than bad, and he's been really good at doing just that, he's very focused and committed."
Grant feels that this team has made large steps as the season has gone on, and "couldn't be prouder of them." 
"They love the game of golf and that's infectious," Grant said, "They really came together as a team, they're supportive of each other and are able to push each other and call each other out in a respectful way when mistakes are made."
While Grant hopes one of the boys can come through and win the championship, he also believes that "just qualifying for the Individual tournament is them winning in my opinion." 
"Patrick and Carter are in the top echelon of division one golfers," Grant said, "As far as being crowned the outright winner they just need to play their game against the course. They need to focus on one shot at a time and expect that mistakes will be made so when they happen, they're ready for them and prepared to move on without those mistakes snowballing into more mistakes. They also just need to "play" golf and don't let the moment overwhelm them.  O'Connor and Browning have a great golf demeanor and I expect them to have a great showing on Saturday."