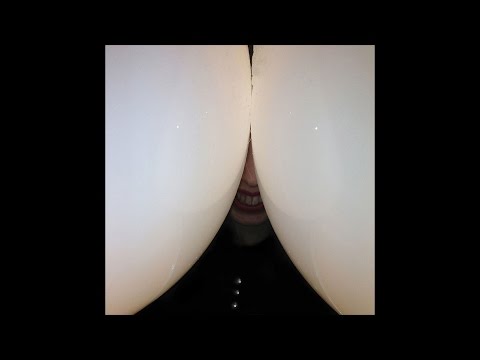 It is a testament to the continued quality of Death Grips that they can make a line like "I see you fiending marvelous gagballs" a singalong moment. On Bottomless Pit, their seventh full-length release, the experimental punk-rap trio take their unique, schizophrenic aggression in a more melodic direction.
That's not to say Bottomless Pit is a mellow affair. It's about as mellow as a bad acid trip while skydiving; from the impossibly fast black metal-accented drums that spring to life fifteen seconds into the album's opener, "Giving Bad People Good Ideas," to the post-apocalyptic, overdriven drone of the eponymous closer, it's as unrelentingly heavy as anything else the band has put out.  Bottomless Pit is what would blare over the blown-out, sand-caked stereo in Mad Max's Interceptor, and to hear its second single debut on Zane Lowe's Beats 1 Radio show earlier this week is as jarring and unexpected as it is hilarious.
While the tortured howls of frontman/MC Ride are most often the first thing to grab your attention on a Death Grips track, the production and instrumentation on Bottomless Pit is perhaps the strongest in the group's five-year history. Producer Andy Morin weaves an intricate, sinister soundscape of pulsing synths and otherworldly sampling that drummer Zach Hill's animalistic, four-to-the-floor flourishes and pounding beats accent perfectly. The use of live instrumentation in the form of bonecrushingly heavy, distorted rhythm guitar is not a new addition to the group's sonic formula – some of the tracks on The Powers That B, their previous release, included similar work from Tera Melos guitarist Nick Reinhart – but like everything else on Bottomless Pit, it's turned up to eleven.
Another interesting change in the tried-and-true idiosyncrasies of Death Grips' sound is Ride himself. While his characteristic screaming is present and as brutal as ever, it is in the album's more arid, tuneful moments that he shows a different side of his vocals. Tracks like "Warping" and "Eh" are the closest Ride has ever come to straightforward rapping, and his trademark voice seems tailor-made for those songs' unusual monotone flow.
Lyrically, Bottomless Pit is more intentionally opaque than anything else the band has ever released. The fact that the album's lyrics were released weeks before the album itself should be a good indication of just how cryptic Ride's demented, freeform writing really is.
Bottomless Pit is a curious release from a curious band. Delivered almost seven months after its announcement, without much of the willfully obtuse Internet teasing and complicated hints that the band is known for, its release is unusually straightforward. Juxtapose that with just how densely incomprehensible the content, message and theme of the album is, and Bottomless Pit is perhaps the strangest, perhaps the best, release so far for music's most unpredictable group.
---
8/10