Lancer football aims to complete perfect season
The Lancer varsity football team stormed through the division one semi finals with a 35-14 victory over the Salem Blue Devils. They pushed through the game without a challenge. As a matter of fact, they have yet to face a real challenge this year—their closest game was a 16 point victory over Salem earlier this season.
But the Lancers will face one last test this Sunday in the state championship against the 10-1 Exeter Blue Hawks.
"We have worked hard to get where we are," senior quarterback Jake McEachern said. "Now we have to finish, this game is going to be a battle."
This season the Lancers' offense has averaged 47.8 points per game, paired with their defense only allowing 10.6 points per game. 
"We have a very talented offense, along with a dominant defense," McEachern said. "The mix of excellent coaching and preparation with our talent is what makes us so successful."
The Lancers have beaten every team in their path this season and are currently 11-0. But the Blue Hawks have taken care of business as well, heading into the championship with just one loss on the season.
"We've watched a lot of film, and they seem like they're a good all around team," senior running back Jeff Wiedenfeld said. "But I think our team has everything we need to defend them well and play some good ball."
The Lancers have been able to do everything well this season—anything from playing defense to running the ball, and they have thrived in the passing game as well. 
"We have the ability to play different positions and succeed at them," Wiedenfeld said. " I think our strength, speed, and versatility are completely unmatched. I don't think there is a team that is stronger or faster than us in the state." 
The last time the Lancers won a state championship was 1998, and the last time they played for one was in 2001. 
"There's no doubt this is a big game, it's the championship," Wiedenfeld said. "It's the biggest game Londonderry has played in years, and it very well may be the biggest game of my career as well as most of my teammates."
This very well may be the most anticipated game of any sport that Londonderry has seen this decade, but the boys are ready for the moment.
"I'm pretty confident, we've had a good season so far and shown what were capable of," Wiedenfeld said. "But you've got to take every week one at a time and play them as you've played everyone else. But if we do what we have all year, and execute as we have, we should have no problem winning this game."
"
"If we all do our jobs, we're going to bring this win home for Londonderry.""
— Senior Jake McEachern
Despite the team's success this season, that doesn't change their mindset going into the game.
"We're gonna treat this game just like any other game and not let the moment get to us," McEachern said. "If we all do our jobs, we're going to bring this win home for Londonderry."
The Lancer football program has many star players in their season this year, many of which may never step foot on a field with a helmet, pads, and cleats again. 
This game is the defining moment for the playing careers of little boys who grew up playing for the Wildcats and worked hard every season, all for this game. 
"This game is kind of everything," Wiedenfeld said. "It's the combination of growing up playing football and the grind of these last four years, its proof of all the effort and hard work we've put in. This is the biggest game of our careers and it might be the last for a lot of us. We have to win this game. But regardless of what happens we need to appreciate the moment, appreciate the fun, and appreciate the team. This is our last rodeo, it's our time to shine."
Leave a Comment
About the Contributor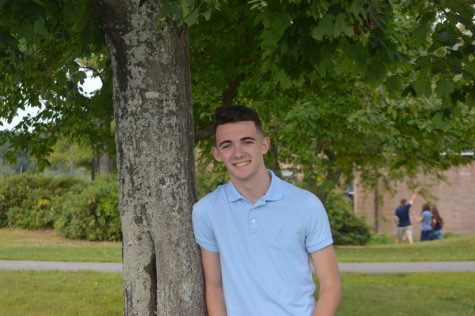 Tyler Wilbur, Executive Sports Editor
Big Sports Guy. Retired youth football and baseball player. Pro-gamer. Tyler is a sports guy's guy. Vivid outdoorsman. He's met more professional athletes than you.