The brain behind the beauty
Wake up. Wash up. Makeup.       
Pick out clothes that ensure you look good. Don't wear anything too revealing or you're a slut, but don't cover up too much or you're prude. Check a thousand times in the mirror before you leave the house. 
After going through your mental checklist, you're off. 
If you're at school, make sure you look good at all times. At your desk, put your head on your hand to block your side profile, one of the many things on the list of insecurities you need to hide. Pull down your sleeves to hide your wrists and hands. Cross your arms in the halls to cover up your stomach, you want to remain "skinny" even when you don't feel it. Repeat after every bell, making everything picture perfect so you can believe that you matter. 
If you're out, do the same as you would at school, but make sure that you don't look too good, just in case someone has the wrong idea. As important as it is to look perfect, you must stay safe. Walking down the street in the city, you silently compare yourself to the other girls you pass, fixing your clothes when you see the 110 pound girl walking by with her boyfriend and thinking to yourself you need to look like that to get a boyfriend of your own.
You open up social media and your feed is flooded with girls competing for followers and likes. The only way to feel important is when your post reaches 400 hearts or when you get dozens of comments about how great you look. You think that is the only way to be noticed. 
It's impossible to escape society's idea of perfection. Gorgeous models and pop culture icons are plastered everywhere, showing you what you are supposed to look like. The pressure to look like the models you see on your screen is rapidly increasing. Guys constantly pull up models' profiles to fawn over them. You want that much attention, but you think you can't have it unless you become a clone of them. 
You know almost every girl shows their friends the profile of the girl they're going to make fun of next, picking apart every post, pointing out everything wrong with her. At some point, your page is going to be under the microscope, so it better be good. Going through your profile, you delete the pictures from years ago and any that don't have enough likes. Make sure any embarrassing pictures you're tagged in can't be seen on your profile. Don't leave anything that is less than perfect.
You switch between apps like Facetune and Photoshop with each picture you're going to post, making sure everything you want is fixed. The contrast between the person you are on Instagram and the person you are in real life becomes even greater than before. At this point, even you don't know who the real you is anymore.  
Schools are filled with both boys and girls making fun of how others look, telling them what to wear and how to act. Don't be too loud, but not too quiet. Don't answer every question in class, but don't look dumb. Judgment follows you like your own shadow 24/7, 365 days a year. 
Walking the fine line between trying too hard and not hard enough is a balancing act, an unnecessarily hard one. 
You follow the trends, you buy all the right clothes, spend precious time in the morning painting your face with countless products, and do your best to be like the "populars." 
But even that isn't good enough.
You can't just blend in because then you're just a trend-follower. You need to stand out, but not too much—that's just weird. To feel good about yourself, you need to be the prettiest girl in the room. The skinniest. The one with the best body. Without any of that, you're just another deer in the herd, you're nothing. 
In every Disney princess movie we watched growing up, their goal in life was to get the prince. Girls are shown from a very young age that beauty is power. That's how you become popular, succeed in an office run by men, get out of speeding tickets, and get your own Prince Charming. If you don't look like the front of a magazine, this life just doesn't seem possible.
At this point girls will do anything to get the "perfect body," which doesn't seem to exist. Bigger girls are called unhealthy and told to lose weight, while skinny girls are called anorexic and told to eat a hamburger. No matter your body type, there's always something someone will scrutinize. 
We are told all girls must be the same. Blonde haired, blue eyes. No imperfections anywhere.
But that is not the case. 
You don't need to conform to society's beauty standards. Everyone is beautiful in their own way. Unique isn't wrong. Your idea of ugly is someone else's idea of beauty. So no, there is no need to skip breakfast every morning, spend every paycheck on the trendiest clothes, waste your phone storage on toxic photoshop apps, or fill your weekends with numerous skin care products that are probably just making that tiny pimple even worse. 
You can wear leggings and sweatshirts to school everyday. None of us want to be here anyway, so why put in the effort. But don't change out of the outfit you were looking forward to wearing just because you're worried about what other people will say. Don't let anyone else shape you into the person you think you need to be. Wear what you want, wear the real you. 
Leave a Comment
About the Contributor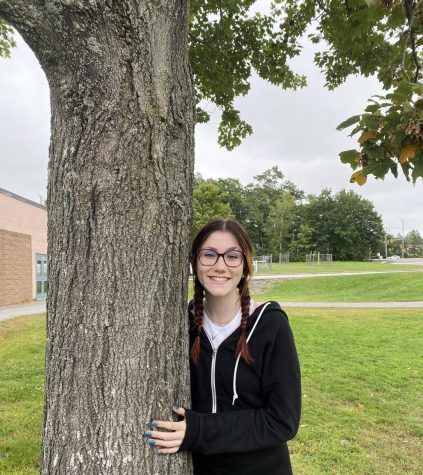 Audrey DeAngelis, Assistant Editor in Chief
Audrey is in her third year on staff, starting as a reporter her sophomore year. Her first year as an editor, Audrey was Online Chief and is very excited to be Assistant Editor-in-Chief this year. Next year, Audrey plans to study forensic science and pursue a Master's degree in chemistry in hopes of becoming a crime scene investigator.