Ashton Irwin's solo career sprouts with 'Superbloom'
Never in my life did I expect to watch drummer Ashton Irwin of 5 Seconds of Summer (5SOS) smoke a blunt on Instagram Live as he celebrated the release of his first solo album, but here we are.
Honestly though, Irwin deserves it. Superbloom is a phenomenal album that has managed to become a strong contender for my album of the year, despite coming seemingly out of nowhere. I'll admit, when Irwin announced the release of Superbloom I was nervous to see what would come from this record, especially because 5SOS's CALM (which was released back in Mar.) was a disappointing album that I haven't listened to since it was released. 
However, upon first listen of the lead single off of Superbloom, I realized I had nothing to worry about. The deep, monotonous guitar of "Skinny Skinny" serves as the framework to a blooming and beautiful song about body dysmorphia and eating disorders. Irwin's emotional delivery is impeccable, as he cries out, "I wanna eat, I wanna stay thin / I wanna dance, but I gotta stay in."
"Skinny Skinny" isn't the only track that deals with such important topics. "Scar" and "Have U Found What Ur Looking For?" both explore the struggles of holding on and overcoming difficult times. On "Scar," the subtle yet almost angelic background vocals and whimsical bursts of harp wonderfully juxtapose the assertive electric guitar, all while Irwin passionately calls on his family members for help and reminds them, "There's no need to say goodbye / When the world leaves a scar."
By contrast, Irwin's explosive vocals on "Have U Found What Ur Looking For?" perfectly complement the gritty guitar, dirty bass and stirring drums, thus creating an intense, but cathartic atmosphere that I just can't get enough of. One day, when concerts are allowed to proceed and COVID-19's grip on the world loosens, I can't wait to scream, at the top of my lungs, "Oh, won't someone show me the way? / Won't someone show me the way out? / Have you found what you're looking for?"  
Irwin seems to find the answer to his questions on "Sunshine" and "Matter of Time (Interlude)." Behind the uplifting flares of harp, plucky guitar and dreamy vocal patterns of the former, Irwin reminds the listener of the importance of looking on the bright side of life and appreciating the small things. The lullaby-like, watery guitar and swelling horns make the latter feel like a nice, warm hug, in addition to the reassuring lyrics. Irwin encourages, "Darkness shows up, don't you let it grow / The light will shine in, then your heart will know / That all of the things that cause us pain inside / Will come and go"—a message that also holds true on "Drive."
Dedicated to Irwin's girlfriend, "Drive" is a thoughtful declaration of support and love after her father's passing; Irwin promises, "I'll be with you when the world is falling down… The future's not so clear, I'll help you see / There's so much more to life than you and me." Besides the loving, superb lyrics, there's a nostalgic, midnight-drive-in-the-rain feel to "Drive." I don't know if it's the propulsive bass and sweetly-singing synth or the early-2000s pop-punk influences, like the overpowering electric guitar solo and copious vocal layers, but what I do know is that I absolutely love this track, just as I do the rest of the album.
Overall, Superbloom is a delicious cocktail of 90s grunge influences; beautifully-written, earnest lyrics; and heartfelt vocals that command upon addicting melodies. 10 / 10
Give 'Superbloom' a listen yourself!
Leave a Comment
About the Contributor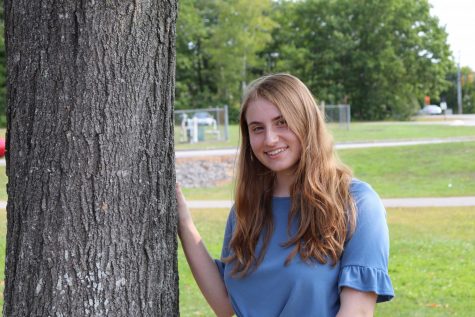 Anna Drabik, Executive Arts and Entertainment Editor
A frequent concert-goer and a nervous wreck (some of the time), Anna is looking forward to continuing to write music and concert reviews this year for The Lancer Spirit. She also enjoys working out, sleeping, and watching Jane the Virgin, her favorite TV show, on Netflix.