Fashion Friday: Grady Daron
For the first Fashion Friday of April, we highlight senior Grady Daron's personal style and some of his outfits from this week. 
Daron's high fashion can be attributed to his inspiration from "the streets of Boston."
"I like having clothes that other people don't have, I like having old shirts of bands or sports," Daron said. "I like having throwbacks."
Anyone who's familiar with Daron's style will recognize his bold and unique fashion staple, T-shirts.
"My best shirts are always shirts that my dad gave me, my dad is cool," Daron said.
Daron is never afraid to break some basic, commonly-known fashion rules to create an outfit that will leave you wondering how he could style a shirt and pants all in the same color.
"I love monochromatic outfits, I would say half of my outfits are monochromatic," Daron said. "Some would say monochromatic outfits might make a person appear shorter, but I think I look rather tall."
Despite Daron's passion for monochromatic outfits, when it comes to following fashion trends and wearing things that people commonly like, Daron describes himself as "anti-trend." 
"When people start doing things, I hate those things," Daron said.
Recently, shorts with a 5-inch long inside seam have become popular in men's fashion for their dressy and flattering look. Nike Air Force 1 sneakers have also become a long lasting trend for their stylish look that can be paired with any outfit. However, Daron's sophisticated style knowledge disagrees with the trends' fashionability.
"5 inch seam shorts? Hate that. Air Force 1's? Never bought them," Daron said. 
Always rebelling against what's popular, Daron's shopping is just as unorthodox as his style.
"A large portion of my clothes are Christmas gifts, I don't have a job and I can't spend money, I feel like that's a big influence on my style," Daron said. 
Although you won't be able to shop to replicate Daron's style, he leaves us with some final words of wisdom on expressing your own personal style.
"Literally wear whatever, I do not care," Daron said. 
---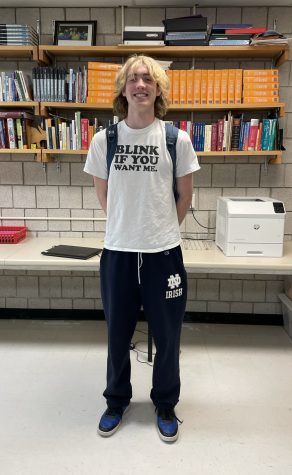 Here, Daron styles an obviously satirical graphic T-shirt as the statement piece of the outfit.
"No girls blinked that day," Daron said.
Daron pairs the humorous shirt with University of Notre Dame sweatpants and blue and black Nike sneakers.
"My parents gave the pants to me for Christmas when I liked Notre Dame, before I got rejected admissions," Daron said. 
---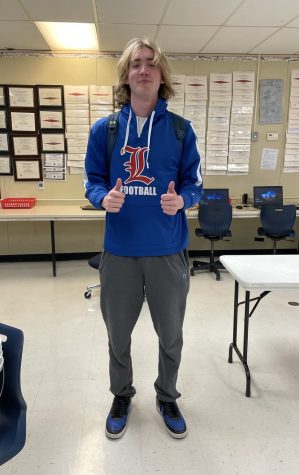 In this outfit, Daron is wearing an exclusive Londonderry Lancers football sweatshirt, which he acquired after selling 25 Lancer cards during his freshman year football career. The sweatshirt is accompanied by grey Champion sweatpants and the same Nike sneakers as seen in every outfit.
"I like the black and blue [sneakers] because the school colors have blue and all my clothes are from the school," Daron said.
---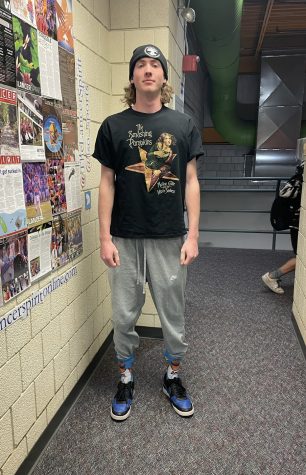 For this outfit, Daron is wearing a popular 90s rock band shirt, Smashing Pumpkins, however do not ask him to name three of the band's songs.
To contrast the last outfit, he is also wearing grey Nike sweatpants and the blue and black Nike sneakers make another appearance. Daron makes a bold statement by wearing socks featuring none other than, NBA player Lebron James,  from the popular Space Jam movies. To match the shirt, he is wearing a black beanie, endorsing his brother's rock band, Afterimage.
"I got the hat from my brother's band, listen to Afterimage on all streaming platforms," said Daron. 
---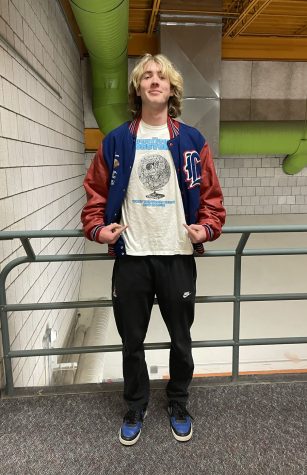 Here, Daron is wearing yet another piece of exclusive Lancer football merchandise, a letterman's jacket which he got after the team won two state championships.
Under the jacket, he is wearing a T-shirt to show one of his favorite bands, The Mighty Mighty Bosstones. We can also see Daron wearing something we have yet to see from him, black Nike sweatpants and Nike sneakers.
---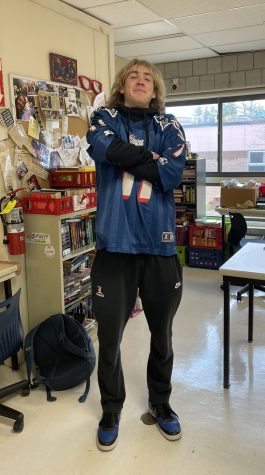 For Daron's final outfit, his wearing one of his favorite styles, a black monochromatic outfit. However, the black is broken up by a vintage Drew Bledsoe Patriots jersey. 
"This is my dad's old jersey from when Drew Bledsoe played," Daron said. 
Leave a Comment
About the Contributor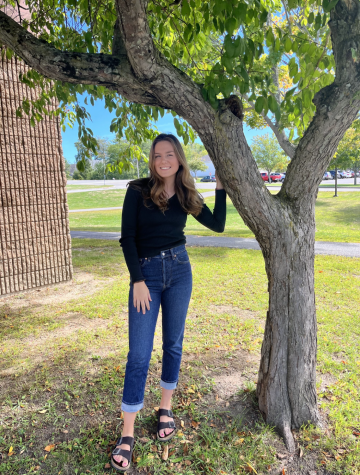 Megan Standifer, Assistant Editor in Chief
Senior Megan Standifer has been on staff since 2020, starting as a reporter, then Fashion Editor during the 2021-2022 school year, and now Assistant Editor in Chief as well as Magazine Chief. Standifer is accredited with bringing fashion feature stories back to The Lancer Spirit, with her creation, 'Fashion Friday.' When Standifer isn't carefully critiquing the fashion industry, or speaking on insightful podcasts, she enjoys playing volleyball, snowboarding, and sitting bench on the girl's track...