Pura Vida bracelets: Trendy and meaningful gift idea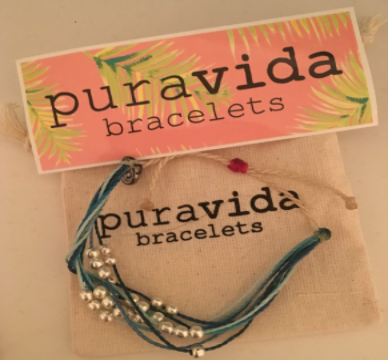 Meghan Evangelista, Reporter
February 3, 2017
Hang on for a minute...we're trying to find some more stories you might like.
It's one of our worst nightmares. A friend mentions that their birthday is coming up, or suddenly a holiday is right around the corner and we realize: we forgot.
Finding a low-budget gift in a short amount of time can be stressful. You want it to be meaningful, but thoughtful gifts can often become expensive or time consuming.
Pura Vida bracelets, however, provide a thoughtful gift without breaking your bank account.
Spanish for "pure life," Pura Vida bracelets symbolizes the beauty of a simple life. These special bracelets are handcrafted in Costa Rica by skilled artisans.
It all started when two college graduates, Griffin Thall and Paul Goodman from San Diego, California took a trip to Costa Rica and crossed paths with two bracelet peddlers named Jorge and Joaquin who, at the time, were living in poverty. After seeing the poverty first hand, Griffin and Paul asked Jorge and Joaquin to make 400 bracelets to take home to San Diego, California. Upon returning home, Griffin and Paul placed the bracelets in a bowl at a local boutique.
They didn't know at the time, but this causal encounter with these bracelets would start their journey and partnership to success.
Now, Pura Vida is partnered with over 190 charities and has donated over a million dollars since their founding.
Every charity that has partnered with Pura Vida has its own unique bracelet to go along with the organization, and are typically color-specific towards the cause. For example, the charity "Save the Dolphin" sells a bracelet through Pura Vida that is many shades of blue to symbolize dolphins and the ocean. Pura Vida bracelets that are charity-specific cover all different causes, range from saving sea animals, different cancers, autism awareness,animal rescue and many more.
"Not only do the profits go to help others, but they have a nice beachy style to them which is what I love," junior Ally Rose said.  "I like knowing that purchasing this bracelet isn't just for me, but is helping others out and spreading the word about these charities."
These bracelets are an ideal gift for friends and family, since they are not gender specific and are adjustable to all different wrist sizes. You can see many Lancer students sporting these bracelets in the hallways.  
"I got my bracelets on Black Friday, because they were having amazing deals, I got some for both myself and family members as gifts," junior Skylar Endyke said. "My brother is in the marines so I really wanted to show my support to him and the troops."
The bracelets retail at a reasonable price at $5 for a single band. If you want to stack your Pura Vida bracelets, they offer packs ranging anywhere from $30 to $74 depending on how many bracelets you want. A percentage of that purchase will go towards charity.
"I think it's great that Pura Vida can bring together families and people with these charities and organizations," Endyke said. "When you see someone representing the same charity as you, it's an instant connection."
You can purchase your own Pura Vida bracelet here.