Camila Cabello begins a new era
Camila Cabello concluded the cycle of her debut album, Camila, by stating that she was going to write " the album of [her] dreams." Now, over a year later, Cabello has begun her second album cycle, titled Romance. On Sept. 5, Cabello released "Shameless" and "Liar" simultaneously as the leads from Romance. 
Overall, "Shameless" brings feelings of intensity and passion to the table. The brazen, grimy, short guitar chords that begin the track give "Shameless" an air of mystery. Full swings of electric guitar and glaring, almost wind-like keyboard are added to build anticipation. The post-chorus brings the fire, with its booming bass and confident percussion.
I don't know what I was expecting, but it certainly wasn't this rock-influenced track with an insane drop. Cabello's vocals ooze with confidence as she sings about reaching out to someone, ready to commit and face unspoken feelings ("Right now, I'm shameless / Screamin' my lungs out for ya… Show me you're shameless / Write it on my neck, why don't ya? / And I won't erase it.") I loved the 8 / 10 track that is "Shameless," but "Liar" …  not so much.
"Liar" is pretty generic and grating. The brass instruments aren't too distracting when they're mixed with other instruments; they effortlessly control the chorus alongside the occasional, tropical-sounding percussion. By themselves, however, the brass instruments are obnoxious and shrill. Coupled with the slinky bassline and claps that are often featured in other songs by Cabello, "Liar" really has no pull for me, and I've heard it all before, which is why I give "Liar" a 5.5 / 10.
A few weeks later, Cabello released another single, titled "Cry For Me," and I have to say, this is my favorite of all the singles Cabello has released for Romance. Cabello's vocals are the emotional charge for this track, as the production is nonchalant with its on-the-nose percussion and short segments of bass. The subtle electric guitar in the chorus grows to a screeching, attention-grabbing bit as Cabello sings about her ex-lover moving on too quickly for her taste and wanting them to feel as upset as her ("When I said I hope you're happy, didn't mean it / Never thought you'd be so good at moving on… 'Cause you haunt me when I'm dreamin' / And it's time you know the feeling.") I love the angsty rock-elements, and "Cry For Me," an 8.5 / 10, smoothly walks the line between desperate and jealousy.
Since the release of "Cry For Me," Cabello has released another single, yet she hasn't announced any details concerning the album's release, or if the album is even coming anytime soon. I look forward to Romance, and hopefully, Cabello won't release the entire album before then.
Leave a Comment
About the Contributor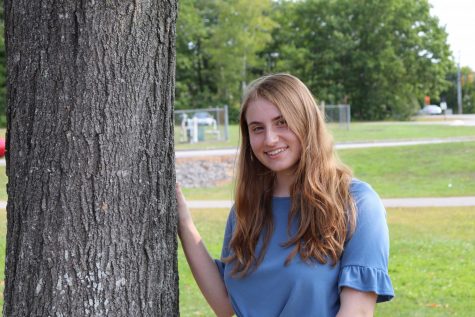 Anna Drabik, Executive Arts and Entertainment Editor
A frequent concert-goer and a nervous wreck (some of the time), Anna is looking forward to continuing to write music and concert reviews this year for The Lancer Spirit. She also enjoys working out, sleeping, and watching Jane the Virgin, her favorite TV show, on Netflix.