Ranking Rosé's performance outfits: Part One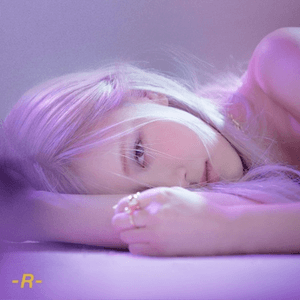 Fashion has always been ingrained in K-pop girl group BLACKPINK's reputation. With the girls being ambassadors for several luxury brands and even the outfits they wear to the airport being carefully curated, BLACKPINK has ensured that their music and their styling always go hand-in-hand. 
With each comeback from the group, I eagerly await their Instagram posts and music show stages. With the added visual aids of choreography, facial expressions, and most importantly, the styling, I feel as if I can truly understand the meaning behind the concept and the music. 
Rosé—main vocalist and lead dancer of the group—finally made her debut as solo artist with "On The Ground" and "Gone" back in March. Though Rosé has never been one of the BLACKPINK members I've looked to for fashion inspiration, I was excitedly anticipating what she and her team would come up with for her performances this era, especially considering how involved Rosé was in every step of the creative process for her solo debut.
Now, with her promotions all wrapped up at the beginning of April, I've decided to rank and review each of Rosé's stage outfits, from worst to best. This article is split into two parts, with the first discussing the bottom six outfits, and the second, the top six outfits. This is part one.
Before I get started, a quick disclaimer: I'm not a fashion expert by any means, and I know that fashion is 100% subjective. These rankings are solely my opinion, and they are based purely upon the outfits and how much I like each of them—or, in some cases, dislike them…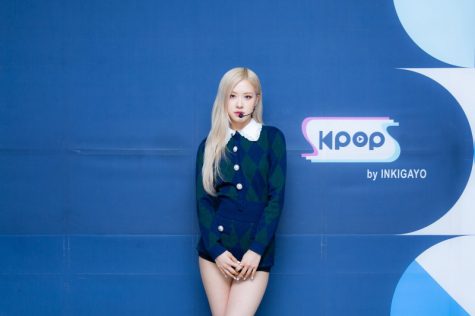 Honestly, this is the only outfit of the 12 that I hate.
I don't really know what the stylists were going for here—maybe some kind of "sexy grandma" look—but it's just awful in every way. The argyle pattern and pearl buttons of this sweater romper are so obnoxiously "old lady" that it couldn't be saved by any amount of cinching at the waist or trendy boots. Don't even get me started on the hideous lace collar.
What makes this outfit all the more ugly to me is that I can very clearly see the potential for it to be decent, if not better. Why not incorporate the lace again as some kind of half-skirt (akin to this), giving the outfit more movement and some desperately needed cohesion? Why not cut the sleeves into two (akin to this), giving our eyes a break from the horrendous argyle pattern and making the outfit somewhat more tolerable? Even putting Rosé's hair up in a ponytail could have salvaged this, but as it is right now, I never want to see this grotesque romper again. 
Rosé, sweetie, I am so sorry that you had to wear that.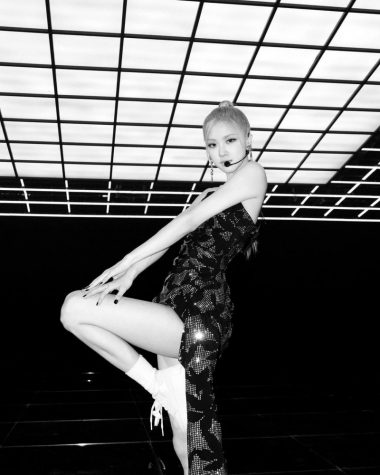 There's nothing wrong, per se, with this outfit, but it doesn't match the concept of "On The Ground." In fact, that's actually a running theme for the next few outfits. 
"On The Ground" shows a more vulnerable, introspective side to Rosé that we don't get to see in BLACKPINK's music. She sings about looking for her life purpose while coping with the stresses of life and fame, only to realize the most important things have been inside her all along, that "Everything I need is on the ground." 
With Rosé's obvious passion for and her demonstrated interest in the writing and creation of music, "On The Ground" and "Gone," which both bear writing credits from Rosé, are clearly treasured extensions of herself. Though these songs may not feature the most eloquent or poetic lyrics, they come from the heart, and that's truly all I could ask for.
Well, music-wise, that's all I could ask for. Style-wise, however, I have some complaints.
Considering the themes and imagery displayed in the music and its visual representations (music videos, photoshoots, etc.), I was expecting to see more of that dis-emboldened rockstar, chaos-that-happens-beyond-the-public-eye type of aesthetic and styling. I was expecting something along the lines of Rosé in a beautiful ball gown that's torn and ripped at the seams, carrying a pair of glittery heels in her hands as mascara tears run down her face, and her hair is all mussed up, thus representing how "glamorous" fame can be.
And, we do get that kind of styling towards the latter half of this list. But, these next few outfits don't seem to match the concept whatsoever.
Don't get me wrong, I actually quite like this outfit, which easily strikes the balance between classy and fun. While a bedazzled body-con dress paired with dangly YSL earrings sounds perfect for a fancy cocktail party, Rosé's bubble ponytail and chunky sneakers add some necessary personality to an outfit that would, otherwise, be too extravagant for a performance. 
Regardless, it doesn't fit the concept (and it's my least favorite of the outfits in that category), hence, it earns 11th place.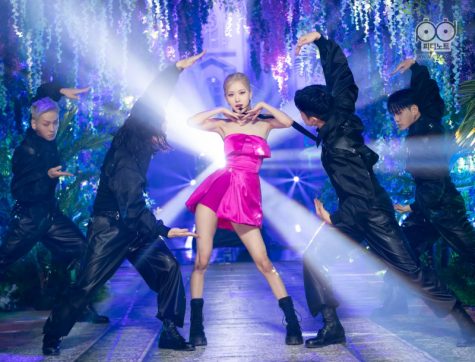 Okay, I may have lied when I said that there was that whole "doesn't match the concept" pattern coming up for "the next few outfits." This outfit does match the concept, but it's terrible enough that I can't, in good faith, rank it any higher.  
In the music video, I couldn't get enough of this outfit, as it perfectly conveys the disheveled, unhappy rockstar aesthetic that the song and concept demand. The chunky black boots and long-trailing scarf, which represent Rosé, juxtapose the heavy-draping, bubblegum pink gown, which represents the loss of personal freedom that comes along with fame. This outfit, in my opinion, did a great job of capturing and then relaying the message of "On The Ground" with no words—a triumph that is no easy task. 
However, I have to place great emphasis on the did. For the actual performance, the dress and scarf have been shortened, and Rosé ditched the wedge boots for smaller ones. Though I understand these changes were necessary for Rosé to be able to properly perform the choreography, they completely ruined the outfit. 
The scarf is flimsy and distracting, while the dress looks garish and on the verge of ripping with how thin the material is. With just a few alterations, Rosé went from looking like an emotionally tortured rockstar to a dancing gumball, as unfortunate as it sounds.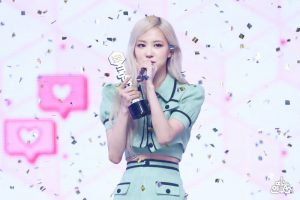 Once again, there's nothing wrong with this outfit. Mint really suits Rosé, and two-piece skirt sets are cute, trendy, and great for performances. Rosé looks great in this outfit (hence why it's above the bottom three), but it just doesn't scream that tormented-rockstar-having-a-breakdown aesthetic that Rosé was going for.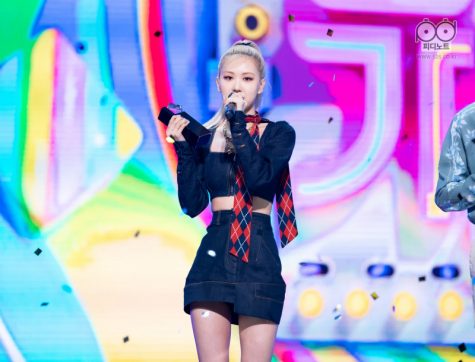 It's practically tradition that every K-pop artist has at least one performance with outfits made entirely of denim during the promotional cycle of each of their comebacks. While denim can be utilized effectively in moderation, it typically looks like the idols are drowning in layers upon layers of it, whether it's thigh-high denim boots, denim corsets, or even necklaces and rings made of denim. 
Fortunately for Rosé, this is that one-in-a-million denim outfit that doesn't look horrendous. 
The argyle necktie is a nice pop of color, and it doesn't assault your eyes like number 12's romper did. I love the boxiness of this look, from the skirt's asymmetrical cut to the top's square neckline. While I don't love the shoe choice or the unnecessary use of stacked jewelry around Rosé's neck, this denim outfit was much more tame than I could've expected, and for that, I'm grateful.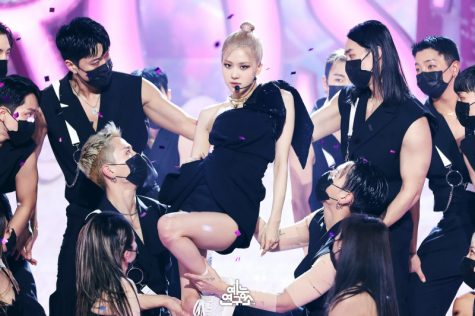 When the stage set and dancers' outfits are as fantastic as they are for this performance, how did Rosé end up in a tacky, cheap-looking dress?
Don't get me wrong, there's a reason this outfit isn't at the bottom of the list. Rosé's elegant eye makeup nicely complements the gold jewelry and black dress, and though I think the shoe choice could have been better, the white sneakers are fine. Rosé's dress is tastefully simple; the one-shoulder cut, built-in belt, and intentionally wrinkled chiffon add movement and keep you interested.
Where things go awry, however, is the atrocious sequined bow hanging on Rosé's shoulder. Rosé's dress was modest yet chic without the bow, and its addition takes the outfit from fancy dinner party ready to mid-2000s prom dress (and we all know how bad the 2000s were for fashion). 
Earlier, when I said that Rosé's dress looked "tacky" and "cheap," this god-forsaken bow was the reason why. Without it, I could guarantee that this look would be higher on the list, but alas, we can't always get what we want. 
Leave a Comment
About the Contributor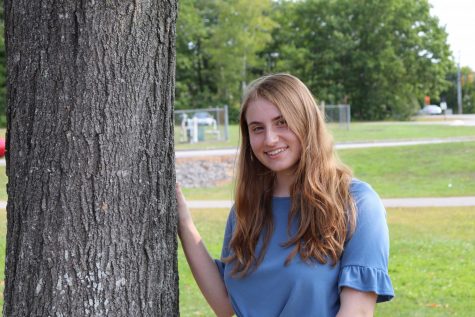 Anna Drabik, Executive Arts and Entertainment Editor
A frequent concert-goer and a nervous wreck (some of the time), Anna is looking forward to continuing to write music and concert reviews this year for The Lancer Spirit. She also enjoys working out, sleeping, and watching Jane the Virgin, her favorite TV show, on Netflix.