Seniors: have you ever daydreamed in class about what it would be like to show how much better you are than your teachers without repercussions? 
Staff: have you ever wanted to get back at your students for not doing their homework by beating them on the basketball court?
For those who have, the Bring Change 2 Mind club (BC2M) and the Athletic Leadership Council (ALC)l have exciting news for you. On February 23, these two clubs will be hosting a Student v. Staff basketball game, where seniors can compete against their teachers to win the ultimate bragging rights. 
All proceeds earned from the game will go towards Bring Change 2 Mind's fundraiser to bring a special guest speaker to LHS to discuss topics on mental health and help spread mental health awareness to high schoolers everywhere.
Athletic Leadership Council adviser Amy Downing is "excited" to bring back this event, as it has not happened in many years.
"We hope people will come to the game to support a good cause," Downing said. "All proceeds will go to mental health awareness issues here at LHS. It should be a lot of fun."
Downing expressed the excitement of bringing these two clubs together, as there was a "lot of creative thinking" between the two clubs working together.
"There are so many great clubs here at LHS doing great things, but we are stronger together," Downing said. "Many of the ALC members are also members of other clubs and can serve as liaisons between the two groups. I feel like we can make more of an impact if we join forces."
The two clubs, along with Downing, hope this event will be able to make a "solid contribution" to bring the guest speaker to LHS, and that the event will become a "lasting tradition" going forward.
"We hope to have a fun and memorable event for the school," Downing said. "We also hope that this collaboration will open the door for more opportunities to work with other clubs and organizations."
Senior ALC member Meghan Daileanes is excited to watch the staff's "competitiveness" come out during the game. 
"I think people should come out to the game because not only will it be fun, but it is supporting such an amazing cause," Daileanes said. 
Daileanes "loves" working with the Bring Change 2 Mind club, and hopes that their "initiative and collaborating" will bring the event success.
"We hope to reach not only athletes around the school, but everyone," Daileanes said. "Mental health is so important nowadays, and we hope to impact as many as we can through spreading awareness."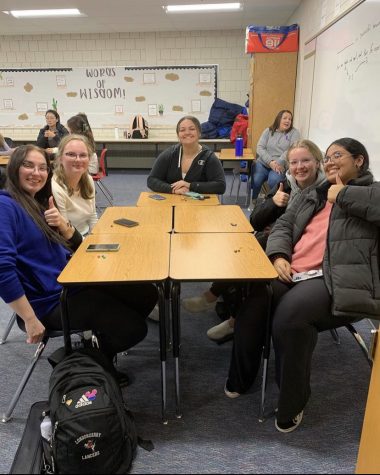 Bring Change 2 Mind member, junior Lily Floyd encourages students and staff to participate or spectate the event because it will be a "fun experience" to see teachers playing against fellow students from LHS.
"Not only is it a fun experience, but it's all for charity," Floyd said. "The main purpose of this event is to raise money for mental health awareness."
Floyd has had a "wonderful" experience working with the Athletic Leadership Council, and is looking forward to the "endless" opportunities that will come after this event.
"Putting the two clubs together to host such a wonderful event has gone pretty well," Floyd said. "The Athletic Leadership Council has given us an opportunity to raise money while promoting both clubs in the process."
Junior member of ALC Ty Miles is "beyond excited" to be working with Bring Change 2 Mind because both clubs believe in the importance of mental health.
"Bring Change 2 Mind is a fairly new group, and ALC is a large group," Miles said. "We are hoping that we can help them grow and in return, they can help us express their important mental health ideas."
Miles is "excited" to watch his classmates compete against some of his "favorite teachers," and encourages students to join him in attending.
"I think that mental health is a very important part of everyone's life, especially high schoolers," Miles said. "The game will be fun and entertaining but it is important for people to go so that it shows everyone is struggling together."
---
The game will be held in the Londonderry Middle School gym at 6 p.m. There are a few different ways to be involved in this event:
Students and staff can sign up to be on the court and play against each other. Click

here

to sign up. Students signing up must be a senior in order to participate. Sign-ups close on Feb. 20th, as the ALC will be holding a raffle drawing live on their

Instagram page

at 7 p.m. to pick who will be competing. Students and staff can purchase as many raffle tickets as they like at $1.

Students and staff can sign up to be a part of the Lancer Dancers and perform in the halftime show. There is no raffle for this opportunity, but those interested must sign up using a

Google form

.

Spectators are welcome in by donations at the door of the event. Staff can support their fellow colleagues while students can cheer on their friends. Anyone is welcome to attend.