'Bring Change to Mind' club breaks stigma on mental health
Ever since the beginning of their junior year, seniors Isabel Schickler and Cassidy Riedel aspired to create a mental health club at the school. With the news of Morgynne Sevigny's passing last fall, they knew they couldn't wait any longer. 
"We went to speak to [House Four guidance counselor Sarah] Doherty about starting a club to break the mental health stigma," Schickler said. "She knew about Bring Change to Mind and suggested that we start a chapter here at LHS."
The Bring Change to Mind club is a national organization in which any school can open up their own branches. As of 2022, LHS is one of 390 schools participating in this movement. Ever since the idea of the club was brought up last year, it has been helping students grow and learn about mental struggles ever since. 
"When [Riedel] and I started the club, it was not only to start breaking the stigma, but to help other people understand the importance of their own mental health," Schickler said. "After running the club for a year, I realized how much I needed to prioritize my own mental health as well. Everything we say to our members are things that I should be saying to myself and I think that Bring Change to Mind has really helped me understand that."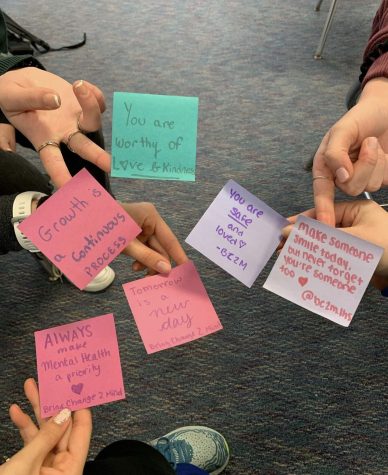 Bringing awareness to mental health in schools is something that senior board member Ava Norton and the new club do everyday. She joined the club in its first year, and has been a member since.
"I don't think people truly understand that not everyone has a perfect life," Norton said. "Bring Change to Mind is just determined to bring awareness to the fact that people struggle, people have bad days and stuff like that."
Bring Change To Mind's purpose is to make sure people have a space to talk about their problems with others that understand. Due to a recent study by the CDC, more than one in three students face mental health issues during their student careers. This number has grown by over 40% since 2009.
"By bringing awareness to mental health, we can make the school an even better place," Norton said. "We want to have a support system so everyone knows that they aren't alone."
Last year, the new club began with educating the members about various mental illnesses. The goal was to explain ways the members can help themselves and anyone that is struggling.
"We did not have any big events last year since it was our first year, and the main goal was to introduce Bring Change to Mind to LHS," Schickler said. "We focused on teaching members how to advocate for both their own mental health as well as the mental health of their peers."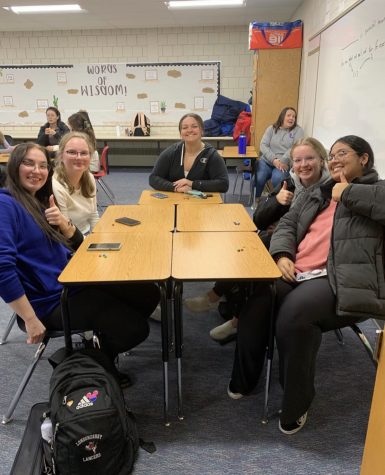 During the first few meetings, around 10-15 members joined. Now, about 30 students are in the club and the number of new members continues to grow. Currently, the club is brainstorming new ways to spread awareness throughout the school community. One of their previous activities includes happiness jars, where students can write something happy on a piece of paper and put it in jars that were outside of house offices. The club's goals as of now are working with the Kate Sherwood walk-a thon, collaborating with Lancers Speak Up, and helping with a mental health assembly.
"As a new club, it's really difficult to get our names out there and try to do stuff when we are not really well known," Norton said. "So right now we are trying to find things that we can do to help spread awareness and break the stigma that's around mental health. We want to get more involved this year." 
Both Norton and senior Alyssa Parsons have both been active members since the start of the year.  They both joined this club to showcase their determination to have mental health spoken about more often. Both of them want to make a difference through Bring Change to Mind.
"It's cool to be a part of the board because you don't realize the impact that you have on people sometimes," Norton said. "Seeing how other people tackle their own situations makes it really cool to know that you can help people like that. Not only that, but I feel a lot better myself because I know that we are helping a lot of the kids at the school."
When Parsons heard about the club, she immediately thought it could be something "really inspiring to be a part of." Parsons joined the club because she believes that talking about mental health is really uplifting and that it's important to discuss, especially among high school students like herself.
"There's a stigma around mental health and there really is," Parsons said. "There's not really any way to fully understand what mental health is and how much it matters until you're in a room talking with other people about it." 
Leave a Comment