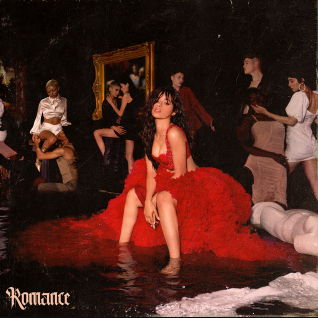 From girl group to solo artist, Camila Cabello has been conquering the industry, hit song after hit song. From the wildly successful "Havana" to recent, record-breaking "Señorita" (with her new boyfriend, Shawn Mendes), Cabello has established herself as a pop force to be reckoned with. 
Cabello's debut, Camila, was unique in its ability to mesh genres and convey beautifully written messages while remaining true to Cabello. Unfortunately, Cabello's recently-released sophomore album, Romance, doesn't hold a candle to Camila. 
Romance suffers from a serious lack of direction. From sentimental love songs to sassy, throw-it-in-your-face moments, I feel like I'm lost in a jungle with no map or compass to save myself. That's not to say that these songs aren't enjoyable, but because there's no organization, they don't fit, and so, Romance feels like Cabello tried to jam pieces from different puzzles together. This, however, is a problem easily fixed by a new, structured, story-telling tracklist that details Cabello's life as she lived it.
Just as a brief background, Cabello was in a serious relationship with Matthew Hussey (a famous relationship coach) for about 16 months. Following their split in June of 2019, Cabello began dating Mendes in July after the release of "Señorita." Romance details this entire journey, but the tracklist doesn't follow the events in real-time. Of the album, 20% of Romance's songs are unrelated to Hussey or Mendes, but 40% is devoted to Hussey, and the remaining 40%, to Mendes. So, if Cabello had constructed the tracklist to match how everything went down, Romance would be much better than it is currently. Therefore, I took the liberty upon myself to do so, and I found myself enjoying the record more than I had before. 
My version of Romance begins with the unrelated 20%. While it sounds akin to a poorly-done rendition of Ed Sheeran, "This Love" would have been the perfect introduction to Romance. Following "This Love" is the telenovela-esque, melancholic guitar-led "Feel It Twice" and angsty, rock-influenced "Cry For Me," respectively. Then begins Hussey's portion of the record, and Romance concludes with the tracks about Mendes. 
But, even with a tracklist makeover, Romance couldn't have been saved without proper promotion. In September, Cabello released "Shameless" and "Liar," but nobody knew which track was supposed to be the lead, and the pair were released on a Thursday, not on new music Friday. This wasn't the first time Cabello's team had released two tracks in the hopes that one would become a smash hit—but it was the first time it didn't work. This strategy is why "Havana" reached the heights it did, but neither "Shameless" nor "Liar" accomplished the same. 
Instead of a double release on a Thursday, Cabello's team should've capitalized on the success of "Señorita," which was #1 on the Billboard Hot 100 for six straight weeks. "Liar," a fun, Latin-inspired track, would've taken over in July or August. In September, "Shameless" should have been released, and on Halloween, "My Oh My (feat. DaBaby)." The swings of an organ and slinky bassline are enticing but have a mysterious feel that could've made "My Oh My" a Halloween classic. 
"First Man," one of Romance's standouts, should have been the final single released before the album. Romance, as a whole, describes the trials and tribulations of love; so, to end the album with a track about how Cabello can experience love because her father taught her so, always triggers the tears, alongside the striking piano. 
Following Romance's release on Dec. 6, 2019, should have been "Easy." There's a wintery, cheesy-Lifetime-Christmas-movie feel to the grand percussion and sweet vocals from Cabello. Cabello sings, "All of the mazes and the madness in my mind… You know me, and you love me / And it's the kind of thing I always hoped I'd find," and I can just picture being cuddled up on the couch, snow falling and fire crackling as a classic Christmas movie plays. Romance is chock-full of songs (like the ones I just explained) that could easily reach the levels of success Cabello has seen before, but her management and promotion are atrocious.
Also dreadful is the overproduction and usage of Cabello's higher register on certain songs. "Should've Said It" is cheeky, and I can get behind the mediocre lyricism ("So you want me now? / That's funny / 'Cause you didn't give a… back then"). But, the on-the-nose, programmed drums and overwhelming bass decimate the little love I had for "Should've Said It." On the other hand, "Living Proof" is pure chaos, from the scattered percussion to whiny guitar. Additionally, Cabello's falsetto in the chorus is ear-piercing after just a few listens. 
However, Cabello's falsetto can be used as an asset. For a song about ending a relationship to start another one, "Bad Kind of Butterflies" is obviously anxious and jittery; thus, Cabello's falsetto perfectly complements the bouncing keys and punctuated bass. Later, on "Used To This," Cabello's higher register flawlessly mixes with the subtle electric guitar, gorgeous production (ticking of a clock, glasses clinking, etc.), and dreamy atmosphere. 
Overall, Romance's magic is decimated by the strange, deceiving tracklist; overuse of Cabello's less-than-perfect falsetto; awful promotion; and some lousy or forgettable songs ("This Love" and "Liar"). There are hidden gems and fantastic moments ("First Man" and "Used to This"), but they submit to the issues I described above, which is why I give Romance a 6.5 / 10. 
Hopefully, Cabello is simply suffering from a case of the sophomore slump, and her third album will be better than ever. Hopefully.
Listen to Romance yourself!