I attended a Democratic Rally: Here's how it went
As someone only mildly interested in politics, going to a Democratic Dinner didn't really seem like something I would want to spend my Saturday night doing. However, I can now say I was completely wrong. 
This weekend, I was given the opportunity to attend the McIntyre Shaheen 100 Club Dinner at SNHU arena. The event consisted of the presidential candidates giving brief speeches regarding the general election. 
Although my friends and I only had the general admission tickets and didn't feast with the big-wigs, there was a lot to take in from the experience. 
When we arrived at the arena, I was expecting your standard lines awaiting security and crowds loitering around. To my surprise this wasn't exactly the case.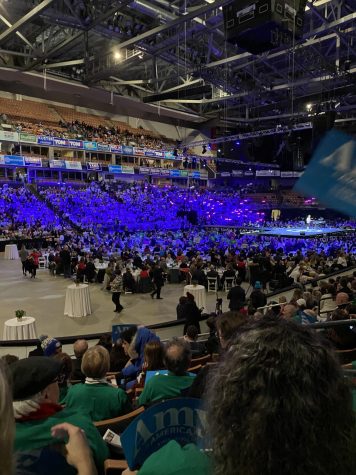 At the entrance, we were greeted by a swarm of Trump supporters. Some stood respectfully with their signs and posters, but others were much more violent. People stood screaming about everything from the recent impeachment of the President to calling the dinner attendees "commie bastards". However, the sea of Trump supporters weren't the only people speaking their truth.
Almost all of the candidates speaking had people outside supporting them. There were paintings, sculptures, and people advocating for who they stood behind. My personal favorite was a huge projection of a Bernie Sanders' silhouette on a nearby building.  
It was super interesting to see the different types of groups all in one area. I have been to other forms of rallies, yet this was definitely the most diverse community I have ever seen.
Once in the event, there were tables upon tables of merchandise for the candidates. This wasn't shocking to me by any means, but there were some nonprofits I was pleasantly surprised to see giving out their free merch.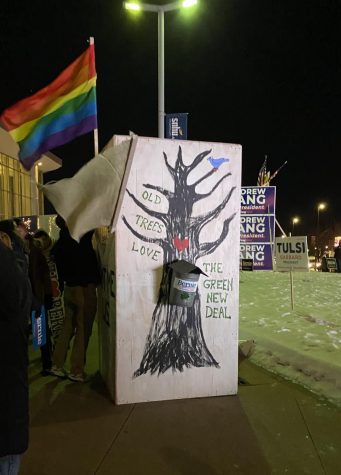 Among several nonprofits, Planned Parenthood and the Climate Action Committee stood out the most to me. Climate Action handed out pins, while Planned Parenthood had a full bucket of condoms for people to take. To me this was a great way to reach more people who would be in support of their beliefs.
After about an hour of collecting pins and yard signs, it was time for the actual dinner to begin. Before the actual Presidential Candidates came out for their speeches, some Senators spoke briefly about the upcoming election in March. The basis of these speeches was about coming together as the Democratic Party and defeating Donald Trump this November. It felt as though despite everyone supporting different people running, we were all working together, which was a unique feeling. 
During these speeches, it was announced that Michael J Fox. was at one of the tables in the special admissions area of the arena. My friends and I were shocked, because what're the chances of seeing Michael J. Fox in Manchester, NH?
After getting over seeing Fox in the same arena as me, it was about time to start hearing from the presidential candidates. Mayor Pete Buttigieg was the first to speak, and Governor Dev
al Patrick finished the night off.
Again, the speeches were all generally formatted the same. They all spoke about defeating Trump and what they planned to support in general. Still, it was great to see all of the politicians in one place. 
Overall, the experience was a positive one. To see the kind of energy at an event like this as well as hear from presidential candidates is something anyone could benefit from, regardless of political affiliation.
View Comments (1)
About the Contributor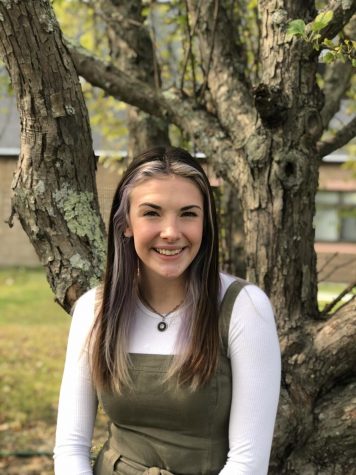 Isabella McCutcheon, Editor-in-Chief
When she isn't making lattes at O'Sheas or editing a feature article, Isabella can be seen with her adorable German short-hair pointer, Sawyer. She spends most of her time at Big Buddies, doing crafts, and working on her upcoming senior project. Isabella is friendly, hardworking, and loves to make people laugh.