Senior Annabella Wu prepares to compete for Miss NH Outstanding Teen
There are wonderful and versatile people all around the school and one of them being an involved student from the senior class: Annabella Wu. Wu has worn many hats throughout her time at LHS, including National Honors Society President, Community Service Club's Outreach Coordinator, and Dance Team captain. 
This past July, math teacher Cara Bound help Wu get another title under her belt, Miss Londonderry's Outstanding Teen. 
"Mrs. Bound sent me a text one day asking what I would be doing on some date in July," Wu said. "I replied, 'nothing' and [Bound] told me to compete. I wasn't familiar with the program at all and was honestly kind of intimidated, but Mrs. Bound was truly convincing and persuaded me to compete."
After working with Wu on the Dance Team, Bound saw potential in Wu that made her an ideal candidate for the Outstanding Teen program. 
"[Wu's] grace, maturity, intelligence, dance talent, community service drive and extensive resume make her the perfect candidate to win Miss NH's Outstanding Teen," Bound said. 
Bound has been able to watch Wu grow as she has mentored her through the process. 
"[Wu] was always so shy and reserved and this has definitely brought her out of her shell, helped her become a more confident leader, and given her the outlet to show off all the amazing things she does," Bound said.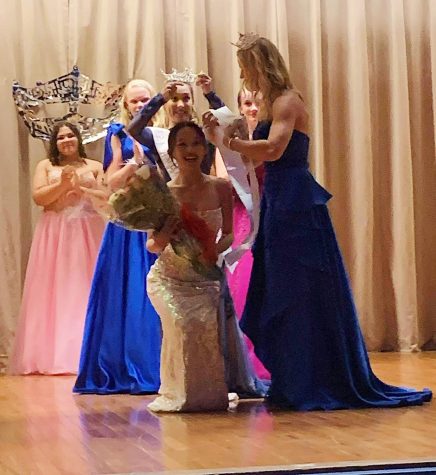 Watching Wu prepare for the state stage has been very different for her than the other aspects of Wu's life she gets to be a part of. 
"[Wu] is so funny and has such a quick wit and dry sense of humor that I don't always see on Dance Team," Bound said. "So it's been fun to spend time with her getting to see who she really is.  I also love shopping and we had a pretty epic shopping day – I loved being able to help her with that."
Once she signed up to compete, the workload Wu faced caught her by surprise. 
"Lots of paperwork, lots of talent rehearsal and lots of mock interviews," Wu said. "As a newbie, the months leading up to competition were super overwhelming. I never expected there to be so much work."
Part of the pageant competition includes a talent portion, in which Wu will be dancing. In addition to talent, each candidate must have a platform to campaign for that supports an issue important to them. 
"My platform is Fashion 4 our Futures: Let's Consume Mindfully," Wu said. "At its core, it is all about environmentalism and building a more sustainable future. However, it specifically targets the fashion industry and our habit as consumers to over-buy and perpetuate fast fashion practices." 
For a very long time, Wu has loved up-cycling clothing into something new with the help of her sewing machine.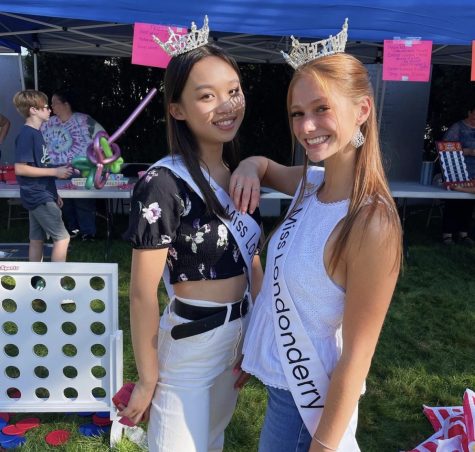 "It's something I've been pursuing throughout high school to reduce the waste I contribute," Wu said. "I hope to spread that love to others, and more importantly, spread environmental awareness."
Social interactions and fundraising come with the Miss OT title. This fundraising can help both the candidate and the organization as a whole. The program contributes to scholarships for candidates, even if they do not win, to further their education as well as introduces the girls to opportunities they may not have had otherwise. 
"In the summer, my director hosted a Comedy Night fundraiser to raise money for me and Morgan [Torre's] state competition wardrobe," Wu said. "As titleholders, we went around Londonderry to solicit raffle prize donations and sponsorships. The event was super successful and we raised over $2000. For the Miss New Hampshire scholarship organization, I was able to help raise money by selling ads for our program book."
Throughout her time as Miss Londonderry's Outstanding Teen, Wu has made many connections with other girls in the program, including Miss Londonderry, Morgan Torre. The girls in the Miss NHOT and Miss NH programs "have the kindest hearts and truly love to serve this state." Along the way, each girl inspires the others in the organization. 
"Our current Miss NHOT, Isabel Povey [inspires me most]," Wu said. "She absolutely embodies everything this scholarship program promotes."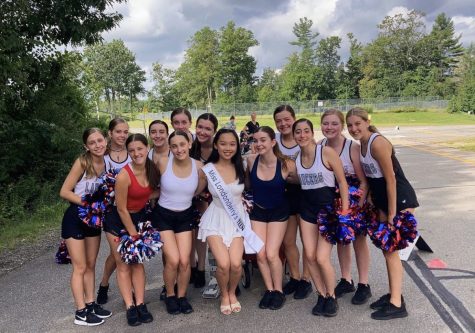 In addition to local Misses, Wu has drawn inspiration from those in the national level.
"I've also been inspired by the current Miss America, Emma Broyles, who grew up in the Outstanding Teen program," Wu said. "She represents inclusivity and Asian-Americans in a time when our country most needs it."
To prepare for this event, Bound believes that Wu should step out of her comfort zone and break rules she has learned not to break during other activities. 
"It's hard to get onstage and speak when as a dancer you are trained to never talk onstage," Bound said. "So that part is new and the interview is new.  She just needs to convey how amazing she is and the judges will see it. It's just tiny tweaking of things right now and practicing interview skills."
Bound has worked diligently to get Wu used to the types of questions she may be asked and conditioned her to work on her weak spots.
"Mock interviews are really fun and help to think of questions you may never have thought about before," Bound said. "So, hopefully when [Wu] gets into her real interview for the job, she has thought about things and doesn't feel overwhelmed with something she has no idea how to answer."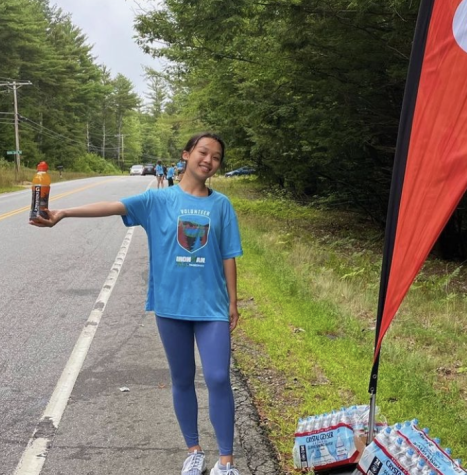 For some, starting to compete as late in the game as Wu started may be difficult. But Wu has risen to the challenge.
"Some girls started competing in this pageant system since they were 12 as the age range is 12-18," Bound said. "So for Annabella to be in it for the first time as a senior is very different – but her maturity, intelligence, and dance skills can earn the crown for her if she puts in the work."
As the Miss NH Outstanding Teen competition approaches, Bound has set her hopes high.
"I hope [Wu] wins," Bound said. "She is so capable and the 'buzz on the street' is that she's the next winner. Girls are looking at her as the really smart new contestant that came out of nowhere."
Going into her first state-level competition, Wu is hopeful but does not want to set unrealistic expectations for herself. 
"It would be amazing to make Top 10 and compete in finals on Sunday night," Wu said. "But I'm honestly just looking to have fun, because pageants can be so stressful and anxiety-inducing. I hope to do my best and just let what happens happen."
---
Click here for more information about the upcoming competition and program
Miss NHOT 2022 will be held on Feb 19 and 20 at the Stockbridge Theater at Pinkerton Academy
Leave a Comment
About the Contributor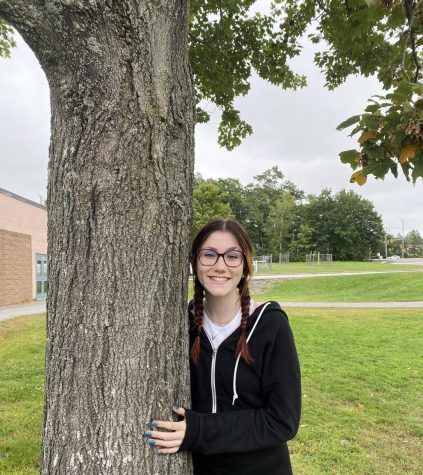 Audrey DeAngelis, Assistant Editor in Chief
Audrey is in her third year on staff, starting as a reporter her sophomore year. Her first year as an editor, Audrey was Online Chief and is very excited to be Assistant Editor-in-Chief this year. Next year, Audrey plans to study forensic science and pursue a Master's degree in chemistry in hopes of becoming a crime scene investigator.