Candidate's focuses for this midterm election
The thousands of commercials, mail, and emails have led up to today's election. There seems to be two main things on the ballot from both sides of the political spectrum: abortion and inflation. 
There are dozens of names to keep up with though, so who, and what, are we voting for? 
The four most well known names are two Democratic incumbents, Chris Pappas and Maggie Hassan with a Republican running against each of them: Karoline Leavit going against Pappas, and Donald Bolduc against Maggie Hassan.
Each candidate has an opinion on a wide range of topics, from drug prices to transgender student athletes.
For Republican Don Bolduc, his major issues, stated on his website, are a stronger economy, stronger borders, "domestic energy production", global leadership, and "defense of our liberties".
Don Bolduc is running for a seat in the US Senate, representing New Hampshire. Before politics, he was a United States Army general. 
Also on his website, Don Bolduc states, "We need more border agents to deal with the record-setting influx of illegal migrants,". He also points out that his opponent, Maggie Hassan, voted against adding border patrol agents on the southern borders.
Maggie Hassan, an incumbent for the US Senate, is running again for the Democratic party. A few of her focuses include lowering prescription drug costs, protecting LGBTQ+ citizens, controlling the drug crisis in New Hampshire, protecting abortion, and "reducing the burdens of student debt". She was previously New Hampshire's governor from 2013-2017.
Her fellow democratic incumbent is Chris Pappas, who is also running for Congress this election season. Like Hassan, Chris Pappas aims to lower drug costs and protect abortion rights. Other issues he puts a focus on include working with republicans, helping small businesses, working with law enforcement, and "protecting the environment".
In 2018, Pappas became New Hampshire's first openly gay member of Congress. Before that, Pappas represented District 4 on the state's executive counsel.
His opponent is much younger and previously part of the Donald Trump administration. Karoline Leavitt shares the issue of high drug costs with Pappas, and aims to help lower the costs for families. Other goals include more funding to law enforcement, strong borders, banning abortion, and increased care for our nations veterans. Before making it to Washington D.C as a Presidential Writer and Assistant Press Secretary, Leavitt worked at the local news station WMUR-TV.
There are obviously more issues these candidates talk about, and there are way more people running for different offices in New Hampshire. All four of the candidates mentioned have pros and cons to each individual voter. Last week, the candidates debated on WMUR-TV, which you can watch here.
If you are registered to vote, the time to do so is now. The future of New Hampshire falls in your hands.
Leave a Comment
About the Contributor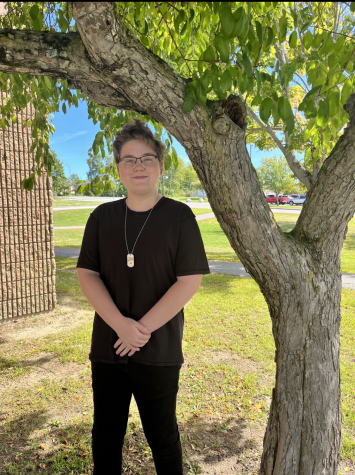 Andrew Macpherson, Opinion Editor
Senior Andrew Macpherson has written for The Lancer Spirit for three years, but this will be his first year as Opinion Editor. He is an avid activist for mental health and LGBTQ+ issues. In New Hampshire, he has spoken at the statehouse against harmful bills to the LGBTQ+ community. In his spare time, he enjoys riding his horse Whiskey.