RC lover makes a business out of a passion
The radio control (RC) vehicle dashes through the rough conditions of the woods to the jump. It flies onto the jump, promptly falls forward and snaps an axle. Jason Betty, the driver behind the remote, stops and brings the car into the garage to repair and then goes back outside. 
Betty would use RC vehicles for the next ten years. One problem that would consistently occur, however, is the vehicles would break and constantly need new parts. That's when a thought popped in his head: he could sell parts for these cars. That's when the idea for RCCrawlerCountry.com came to mind.
"[I thought] if I'm breaking stuff, then other people are breaking stuff too," Jason said. "I started it out of necessity, as an add-on income and to help improve my family's life." 
RCCrawlerCountry.com is a home-based e-commerce company that specializes in hobby grade, radio-controlled vehicle parts, mostly 1:10 scale. They sell complete model RC cars on top of every individual part including tires, wheels, gears, and motors. Scale size accessories, like garages, gas cans, wood, trailers, and chainsaws are also sold on both their website and eBay store.
Besides selling the parts to people, Betty had another reason to start the business. Back when he started the company, he worked full-time at his former family business in Lowell. They bought and sold scrap metal, but business wasn't conducted on his terms.
"I wanted financial freedom and independence to do things the way we want on our own time," Jason said.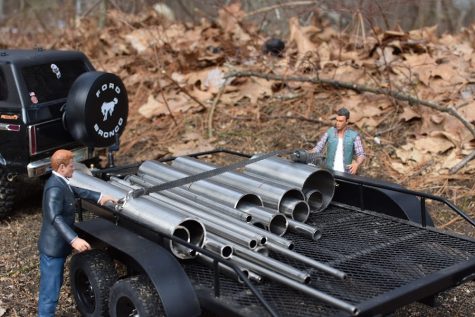 Starting a small business, especially one which specializes in RC parts, can be difficult. Finding an audience can take months, if not years. Jason and April Betty used social media to their advantage and posted often, promoting products. Social media and word of mouth quickly grew their business to where it is today with over 3800 likes on Facebook. 
One other way they attracted new customers was by recruiting team drivers. Team drivers are people who represent RCCrawlerCountry at events and gatherings wearing apparel, decals on their vehicles and promoting the company in conversation. 
The COVID-19 pandemic had a negative impact on small businesses, causing over 200,000 businesses to permanently close. For RCCrawlerCountry, the effects were not nearly as bad. 
"[The COVID-19 pandemic caused] major supply shortages and shipping delays, but sales quadrupled from what we had," Jason said. "Everybody was buying anything and everything."
One reason why they saw more sales was because people were stuck at home, meaning that they had to shop online. The stimulus checks sent out also created more sales.
 "People bought things they wouldn't normally buy because they thought they had extra money. They almost treated themselves," April said.
Both Jason and April said they are "proud" of their business and how it has grown. Jason "enjoys" the process of getting new parts and being sure that they are of utmost quality. 
"I used to like testing and reviewing new parts and accessories, " Jason said. "[I like] interacting with customers and getting people what they need at fair prices." 
April specifically handles inventory and shipping and answers any questions customers may have on products.
"I like that people are willing to give small businesses a chance instead of large hobby stores and love it when a customer refers to us and passes on our name," April said. "We strive for customer service, we answer questions all times of the night, we help customers with parts they need and get lots of repeat customers."
Leave a Comment